The session is part of the Day 2 morning theme, "Scaling the Storage Supply Chain for a Gigawatt-Plus Market."
UNION CITY, Calif.--(BUSINESS WIRE)--Ed Chiao, co-founder and CEO of Amber Kinetics, Inc., the leading developer/manufacturer of multi-hour duration flywheel energy storage systems, will participate in a panel discussion on Mapping Technologies and Applications II (Long Duration) at the U.S. Energy Storage Summit 2016 in San Francisco on December 7-8. The session is part of the Day 2 morning theme, "Scaling the Storage Supply Chain for a Gigawatt-Plus Market."

"As developer of the worlds first commercially ready four-hour flywheel energy storage system, Amber Kinetics foresees playing an important role in the global storage supply chain," Chiao said. "Our 'mechanical battery stores energy in kinetic form. It offers numerous benefits over chemical batteries including longer life, unlimited cycling with no degradation, no risk of fire and no hazardous materials storage or disposal."
The companys product line includes a cost-competitive 8kW/32kWh, four-hour duration steel flywheel system. Last November, Pacific Gas & Electric signed a 20-year energy services agreement with Amber Kinetics for 20MW/80MWh, the largest announced flywheel project in the world by MWh.
Prior to Amber Kinetics, Chiao worked in utility-scale solar development with Cleantech America, a leading developer of photovoltaic (PV) farms in California. The company developed the first utility-scale PV solar project to connect to the California grid at transmission level.
Chiao received his bachelor of science degree in electrical engineering from UCLA and has completed additional coursework in energy policy and cleantech entrepreneurship at Stanford University. He is the recipient of the Chinese Institute of Engineering Scholarship Award, presented by Dr. Steven Chu, the former U.S. Secretary of Energy.
About U.S. Energy Storage Summit 2016
Hosted by Greentech Media and now in its second year, the U.S. Energy Storage Summit will bring together utilities, financiers, regulators, technology innovators, and storage practitioners for two full days of data-intensive presentations, analyst-led panel sessions with industry leaders, and extensive high-level networking. Energy Storage Association (ESA) is a partner in the event.
About Amber Kinetics
Headquartered in Union City, CA, Amber Kinetics was founded in anticipation of the enormous worldwide demand for competitively priced, safe, environmentally sustainable, multi-hour energy storage. The company is vertically integrated, manufacturing its technology and developing energy storage projects using its flywheel system -- a common model in the PV solar industry.
Featured Product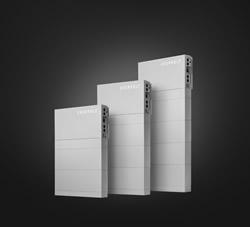 Extract maximum power production from every roof size and shape. HIT® AC Series combines the module efficiency of Panasonic solar panels with the intelligence of Enphase microinverters. A built-in IQ 7X microinverter with Individual MPPT (Module-level Power Point Tracker) tracking helps deliver an all-in-one module that offers design flexibility, reduced installation time, and a higher ROI. Field-replaceable microinverter with no DC wire management required yields lower cost of ownership.