Ecotech Institute, the only college focused solely on energy, announced today that it was ranked #6 in Great College Deals' list of 20 Best Deals on Colleges with Energy Research Programs. The school was honored for its flexibility and intimate learning environment.
Ecotech Institute announced today that it earned a coveted spot in Great College Deals' list of 20 Best Deals on Colleges with Energy Research Programs. The school was ranked #6 in the listing, among an elite group of the nation's most respected colleges and universities.

When composing this list, Great College Deals considered a variety of data about each school, including academic offerings, diversity and tuition cost. Among other things, Ecotech Institute was highlighted for its flexible course schedule. With options for both day and night classes, Ecotech Institute offers its students maximum convenience for their studies.
Renewable Energy Technicians are in high demand. Career opportunities in the fields of wind, solar, electrical and power utility abound and Ecotech Institute is the only college that focuses exclusively on these areas of study. Located in the beautiful city of Aurora, Colorado. Ecotech Institute offers six different degree options for the environmentally-minded student.
Ecotech Institute's small size allows for intimate class settings and a myriad of mentorship opportunities. The programs can be completed in as few as 18 months, allowing students to enter their new careers quickly.
"It is an honor to be placed on this list and recognized for our stellar academics, and we hope that it encourages more people to look into Ecotech Institute and all that we have to offer," said Ecotech Institute Campus President Chris Gorrie. "As the only school that focuses exclusively on these timely and important energy issues, we truly offer a unique experience for our students."
Students interested in learning more about Ecotech Institute can visit https://www.ecotechinstitute.com/.
About Ecotech Institute and Ecotech Training:
Ecotech Institute is the first and only college in the U.S. solely focused on energy. Through flexible options designed for different levels of experience and to meet diverse career goals, students can pursue education in energy in a way that works for them. There are two paths through which students can receive training: Ecotech Institute and Ecotech Training. Located in Aurora, CO, Ecotech Institute offers six highly practical energy degree programs that prepare students for energy careers. Individuals across the country also have the opportunity to take courses and pursue individual certifications in-person or online through Ecotech Training. Both Ecotech Institute and Ecotech Training are committed to equipping students with the skills and training they need to meet today and tomorrow's clean energy industry needs. Ecotech Institute and Ecotech Training are divisions of Education Corporation of America and are accredited by the Accrediting Council for Independent Colleges and Schools. For more information about Ecotech Institute, visit ecotechinstitute.com or call 877-326-5576.
Featured Product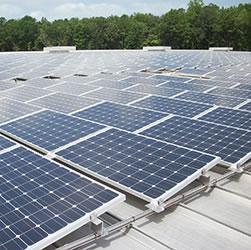 The Power Rail™ Commercial Mounting System is designed with the professional PV solar installer in mind. Both the XD/UD and LD/MD rails feature single tool assembly with the revolutionary patented RAD™ Lock-in-Place bolt for fast and secure module clamping. The high strength marine-grade aluminum rails include an integral wiring channel for securing cables and providing a professional finish.