Companies are encouraged to nominate products and solutions for stationary and mobile electrical energy storage systems
SAN FRANCISCO, Feb. 2, 2017 /PRNewswire/ -- ees North America, an exhibition and conference dedicated to the energy storage market, announced today the opening of the 2017 ees AWARD nomination period.

Now in its fourth year, the ees (electrical energy storage) AWARD recognizes innovative storage solutions driving the energy transition forward. Companies from the entire value chain of battery and energy storage technologies - ranging from components to production to business models - are encouraged to submit solutions for AWARD consideration. All companies exhibiting at one of the worldwide ees or Intersolar events in 2017 are eligible to apply for the ees AWARD.
"The importance of energy storage in the transformation of the energy market is growing exponentially," said Florian Wessendorf, managing director of Solar Promotion International. "Our AWARD is a testament to the market's evolution and highlights the cutting edge of energy storage innovation happening across America and the rest of the world."
With the cost of batteries declining and a renewed push around energy storage mandates on the state level, the energy storage market is slated to grow significantly over the coming year. Market research firm IHS predicts that the energy storage market will "explode" from 0.34 GW installed in 2012 and 2013 to an expected 6 gigawatts in 2017 and over 40 GW by 2022.
Companies interested in applying for the ees AWARD should submit applications by March 17, 2017 by 12 p.m. PST. The presentation of the winners takes place on May 31, 2017 at ees and Intersolar Europe in Munich. The winners of the AWARD in North America will also be recognized at Intersolar and ees North America, July 11-13 in San Francisco.
For more information, please visit www.ees-events.com/award.
About ees
The global ees exhibition series is the industry meeting point, bringing together manufacturers, distributors, users and suppliers of stationary and mobile electricity storage systems. The ees exhibitions are co-organized with Intersolar, the leading exhibition series for the solar industry. ees is inspired by the guiding principle: Charging the Future.
The ees exhibitions and accompanying ees Conferences are dedicated to renewable energy storage solutions, from residential and commercial applications to large-scale storage systems for stabilizing the grid. Other focal points are products and solutions for smart renewable energy, energy management, e-mobility and uninterruptible power supply (UPS).
With ees Europe in Munich, ees North America in San Francisco, ees India in Mumbai, and ees South America in São Paulo, ees is represented on four continents. ees Europe is the continent's largest exhibition with the greatest number of visitors for the battery and energy storage industry.
For more information please visit: www.electrical-energy-storage.events
Featured Product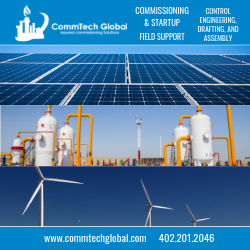 CommTech Global Solutions, LLC, provides professional and reliable commissioning services to customers in all realms of the energy industry. We blend our skills in engineering and technology with innovative business models, offering a complete range of services to assist you for a successful and in compliance operational startup. Consolidation of all our service domains gives our clients a comprehensive set of expertise and far-reaching experience on each project.