Business Intelligence Group Names SolarWindow as "Shining Star" of Innovation and a Chairmans Choice Winner This Year
COLUMBIA, Md.--(BUSINESS WIRE)--SolarWindow Technologies, Inc. (OTCQB:WNDW), the leading developer of transparent electricity-generating coatings for windows on tall towers and skyscrapers, today announced it has been named a winner in the 2017 BIG Innovation Awards presented by the Business Intelligence Group.

The BIG Innovation Awards recognize companies and people who bring new ideas to life, and change the way we experience the world. Organizations from across the globe submitted their innovations for consideration in the 2017 BIG Innovation Awards. Nominations were then judged by a select group of business leaders and executives who volunteer their time and expertise to score submissions and provide feedback.
SolarWindow is developing transparent electricity-generating technology for glass and flexible veneers that has the potential to turn skyscrapers and tall towers into 'clean power generators. Unlike conventional solar photovoltaic (PV) systems, the companys coatings can be applied to all sides of tall towers, generating electricity using natural and artificial light, as well from diffused and reflected light, and in shaded areas.
When applied to a 50-story building, SolarWindow™ could avoid more than two million miles of equivalent carbon dioxide emitted by vehicles on the road, reduce electricity costs by as much as 50 percent per year, provide 15-times the environmental benefits over other roof-top solar PV systems, and according to independently-validated engineering modeling, could achieve a one-year financial payback.
"The sheer pace of innovation is accelerating in virtually every industry as new technology allows corporations and other organizations to rethink how they approach and solve real problems that affect the way we work, love and play," said Maria Jimenez, chief operating officer of the Business Intelligence Group. "We are thrilled to be honoring SolarWindow as they are leading by example and making real progress on improving the daily lives of so many."
"We are honored to be recognized by this distinguished panel of business leaders for our work in developing possibly the biggest single breakthrough in clean energy -converting the solar rays of the sun into electricity on skyscrapers the world over," said John A. Conklin, president and CEO of SolarWindow. "Innovation is at the core of what we do and this award further validates our mission to develop a technology that provides a source of clean, renewable energy to help meet the worlds growing energy demands."
About Business Intelligence Group
The Business Intelligence Group was founded with the mission of recognizing true talent and superior performance in the business world. Unlike other industry award programs, these programs are judged by business executives having experience and knowledge. The organizations proprietary and unique scoring system selectively measures performance across multiple business domains and then rewards those companies whose achievements stand above those of their peers.
About SolarWindow Technologies, Inc.
SolarWindow Technologies, Inc. creates transparent electricity-generating liquid coatings. When applied to glass or plastics, these coatings convert passive windows and other materials into electricity generators under natural, artificial, low, shaded, and even reflected light conditions.
Our liquid coating technology has been presented to members of the U.S. Congress and has received recognition in numerous industry publications. Our SolarWindow™ technology has been independently validated to generate 50-times the power of a conventional rooftop solar system and achieves a one-year payback when modeled on a 50-story building.
For additional information, please call Briana Erickson at 800-213-0689 or visit: www.solarwindow.com.
To receive future press releases via email, please visit: http://solarwindow.com/join-our-email-list/.
Follow us on Twitter @solartechwindow, or follow us on Facebook.
To view the full HTML text of this release, please visit: http://solarwindow.com/media/news-events/.
For answers to frequently asked questions, please visit our FAQs page: http://solarwindow.com/investors/faqs/.llation methodologies.
Featured Product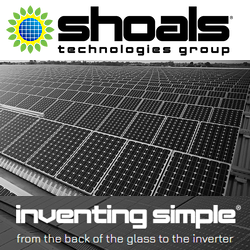 Inventing Simple® isn't just a slogan to us, it's a way of life. Using simple plug-and-play ideology, we revolutionized solar installations in 2003 with our Interconnect System™. Our harnessing system is now the gold standard EPC's use around the world. By using simple ideas, we are making solar energy a more affordable and clean power source for future generations.