Leading renewable energy and infrastructure consultancy, Natural Power, has been appointed by NTR to operate the recently constructed Ora More Wind Farm located in Belcoo, Co. Fermanagh, Northern Ireland.
Natural Power successfully tendered for the operational contract, and with immediate effect will be providing a full range of operational services to NTR including site management, as well as high voltage management, commercial back-office function, health and safety management and operational reporting and analysis, with the Natural Power 'Control Centre' providing operational control and emergency response co-ordination.

Prior to this appointment for the operational phase, Natural Power worked as Owners' Engineer during the pre-construction and construction phases, and prior to this also provided due diligence services to NTR on the project acquisition.
Conor Sheehan, Head of Operations and Asset Management at Natural Power Ireland, said: "Our Operations and Asset Management team is delighted to continue Natural Power's involvement with NTR and Ora More into the operational phase. Both NTR and the Natural Power construction team delivered a quality asset and enabled a smooth transition into operations, and so we very much look forward to working hard to manage and optimise performance of this asset on behalf of NTR in the coming years."
Ora More is comprised of six GE 2.85 103 turbines with a maximum export capacity of 15MW, and will produce enough clean energy to meet the needs of around 10,750 homes.
Joe Dalton, Asset Management Director at NTR, said: "NTR worked closely with Natural Power during the construction of Ora More wind farm site, and we are delighted that this relationship will continue through to the operational phase of the project. Natural Power was selected to manage the site based on its track record and the comprehensive suite of operational services. We will work closely with the team on this project in order to safely optimise the wind farm's performance over the coming years."
About Natural Power
Natural Power Ireland operates from its main office in Sandyford in Dublin and provides a wide range of consultancy and contracting services to all phases of renewable energy projects, including: planning and environmental, resource analysis and analytics, construction, site investigation, operational and asset management and due diligence services across the range of renewable energy technologies (wind, solar, hydro, biomass), energy storage and infrastructure type projects.
This business as a whole employs 320 staff globally, and offers proactive and integrated consultancy, management and due diligence services, backed by an innovative product range, across the onshore wind, offshore wind, wave, tidal, renewable heat, solar pv and hydro sectors, whilst maintaining a strong outlook on other new and emerging renewable energy sectors.
www.naturalpower.com
https://twitter.com/Natural_Power
https://www.linkedin.com/company/natural-power
Featured Product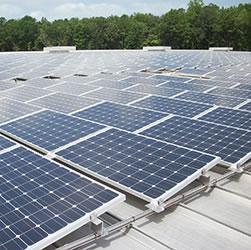 The Power Rail™ Commercial Mounting System is designed with the professional PV solar installer in mind. Both the XD/UD and LD/MD rails feature single tool assembly with the revolutionary patented RAD™ Lock-in-Place bolt for fast and secure module clamping. The high strength marine-grade aluminum rails include an integral wiring channel for securing cables and providing a professional finish.