Stem executes on highest number of utility and grid calls in 2017
MILLBRAE, Calif.--(BUSINESS WIRE)--Stem Inc. announced it has surpassed a number of company execution milestones made possible by its artificial intelligence (AI)-powered network of energy storage systems located at businesses and institutions throughout the U.S. Stem is building the worlds smartest and largest digitally-controlled network, now with more than 700 systems contracted or installed in 75 U.S. jurisdictions. Stem currently has 150 MWh of customer-sited systems across the U.S. ready to be aggregated.

With its proprietary AI at the helm, the rapidly-expanding Stem network has successfully responded to more than 500 utility dispatch requests. In California, Stem has consistently offered stored energy from its network into the CAISO wholesale markets since 2015, including dispatch for seven grid areas during the unprecedented heat wave on June 19, 2017. Stem has dispatched aggregated customer-sited systems in 300 responses to the CAISO wholesale market in 2017 alone.
Stems AthenaTM - the worlds most advanced energy intelligence—enables Stem to execute for its customers every day, optimizing the timing of energy use for businesses and institutions, and across the utilities that serve them. Shifting energy use away from the most expensive times for network members, while dispatching virtual power plants to strengthen the grid, is a complex problem best managed by AI. The growth of Stems network and successful execution of hundreds of grid service calls illustrates the unique value of real-time energy optimization using energy storage. Athena automatically links facilities into a powerful network that can instantly form virtual power plants to generate value for all members, in 350 MWh of local capacity and other grid services in Stems eight utility contracts in California, Hawaii, New York, and Texas.
"When the grids need help, Stems energy superintelligenceTM steps up and responds in minutes by engaging our customer-sited resources, without any disruption to customer operations," said John Carrington, CEO of Stem. "Athena makes distribution planning and local resource adequacy simple for utilities, while giving their customers a way to support grid reliability for their local communities."
Stem Inc., the global pioneer of energy storage-based real-time energy optimization for commercial and institutional customers, is backed by the industrys largest project finance pool of over $500 million. In July 2017, Stem won the SEPA Power Player Award for Innovative Partner of the Year. With 350 MWh of utility-scale contracts and 500 utility dispatches to date, Stem is proving its advice to SEPA members of "innovate, execute, repeat."
About Stem, Inc.
Stem creates innovative technology services that transform the way energy is distributed and consumed. AthenaTM by Stem is the first AI for energy storage and virtual power plants. It optimizes the timing of energy use and facilitates consumers participation in energy markets, yielding economic and societal benefits while decarbonizing the grid. The companys mission is to build and operate the smartest and largest digitally-connected energy storage network for our customers. Headquartered in Millbrae, California, Stem is funded by a consortium of leading investors including Angeleno Group, Iberdrola (Inversiones Financieras Perseo), GE Ventures, Constellation Technology Ventures, Total Energy Ventures, Mitsui & Co. LTD., RWE Supply & Trading, and Mithril Capital Management. Visit www.stem.com for more information.
Featured Product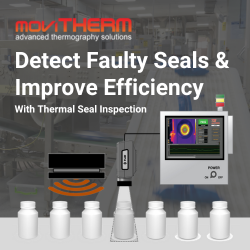 MoviTHERM's Thermal Seal Inspection (TSI) solution provides precise and reliable detection of defects in a variety of packaging types, including pouches, bags, blister packs, bottle caps, and more. By detecting defects in your packages, the TSI solution helps increase efficiency in your production line and ensures top-quality packaging is delivered to your customers every time. With state-of-the-art technology and an experienced team, MoviTHERM is dedicated to delivering accurate inspection solutions and peace of mind to its clients. Contact MoviTHERM today to learn more about their thermal seal inspection solution.