By integrating the Enphase IQ6 Microinverter onto the backsheet of its PV module, JinkoSolar presents residential installers with a valuable proposition.
SHANGHAI, Sept. 5, 2017 /PRNewswire/ -- JinkoSolar Holding Co., Ltd. ("JinkoSolar"), a global leader in the photovoltaic (PV) industry, today announced its new Eagle AC, an integrated product featuring JinkoSolar's high efficiency monocrystalline PERC PV module and the IQ6 Microinvter from Enphase Energy Inc. (NASDAQ: ENPH) ("Enphase")

By integrating the Enphase IQ6 Microinverter onto the backsheet of its PV module, JinkoSolar presents residential installers with a valuable proposition. The Eagle AC simplifies logistics, as installers no longer need to stock, transport, carry, and install separate microinverters onto the roof, which significantly reduces installation time. Once installed on the roof, the installer simply pulls the microinverter into its elevated installed position, which creates a 15 millimeter air gap and ensures sufficient air-flow and cooling. The partnership provides a complete AC solution for a safe solar installation. Customers can also monitor the Eagle AC's performance through Enphase's Enlighten app.
"We are excited to work with Enphase on the Eagle AC, as Enphase's microinverters already have broad appeal in the market," said Nigel Cockroft, General Manager of JinkoSolar (U.S.) Inc. "The Eagle AC is the logical next step in the evolution of residential solar, and we are pleased to offer it to our customers. More information about the Eagle AC can be provided at JinkoSolar's booth #3965 during Solar Power International."
"JinkoSolar's scale, financial strength, and manufacturing expertise make it an excellent partner to build an Enphase Energized™ AC module," said Badri Kothandaraman, Enphase Chief Operating Officer, "Pairing the #1 global module manufacturer with the #1 global microinverter manufacturer creates a winning combination."
About JinkoSolar Holding Co., Ltd.
JinkoSolar (NYSE: JKS) is a global leader in the solar industry. JinkoSolar distributes its solar products and sells its solutions and services to a diversified international utility, commercial, and residential customer base in China, the United States, Japan, Germany, the United Kingdom, Chile, South Africa, India, Mexico, Brazil, the United Arab Emirates, Italy, Spain, France, Belgium, and other countries and regions. JinkoSolar has built a vertically integrated solar product value chain, with an integrated annual capacity of 5.0 GW for silicon ingots and wafers, 4.0 GW for solar cells, and 6.5 GW for solar modules, as of March 31, 2017.
JinkoSolar has over 15,000 employees across its 8 production facilities in China (5), Malaysia, Portugal, and South Africa; 15 overseas subsidiaries in Japan (2), Singapore, India, Turkey, Germany, Italy, Switzerland, United States, Canada, Mexico, Brazil, Chile, Australia, and South Africa; and 18 global sales offices in China (2), United Kingdom, Bulgaria, Greece, Romania, United Arab Emirates, Jordan, Saudi Arabia, Kuwait, Egypt, Morocco, Ghana, Kenya, Costa Rica, Colombia, Brazil, and Mexico.
To find out more, please see: www.jinkosolar.com
Featured Product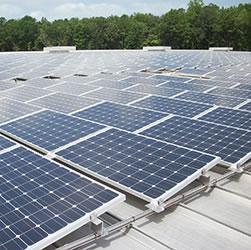 The Power Rail™ Commercial Mounting System is designed with the professional PV solar installer in mind. Both the XD/UD and LD/MD rails feature single tool assembly with the revolutionary patented RAD™ Lock-in-Place bolt for fast and secure module clamping. The high strength marine-grade aluminum rails include an integral wiring channel for securing cables and providing a professional finish.