FOURTH COMPONENT OF AESP/ESSENSE PARTNERS SURVEY RELEASED TODAY
PHOENIX - NOVEMBER 30, 2017 - A recent survey aimed at energy industry professionals and consumers conducted by the Association of Energy Services Professionals (AESP) and Essense Partners found that devices connected in the home to the "Internet of Things" save money on utility bills, but adoption rates of these devices are still low.

AESP conducted the survey among consumers and utilities - roughly 3,000 total respondents -- earlier this year. The fourth of four parts, focusing on the Internet of Things, was released today.
Despite all the "smart home" news in the media, only about 25 percent of the consumers surveyed said they owned at least one IoT device:
• Smart thermostat: 12 percent
• Smart speaker, i.e. Google Home, Amazon Echo): 7 percent
• Smart power strip: 5 percent
• Smart washing machine: 4 percent
• Smart doorbell: 2 percent
• Smart air conditioning unit (those controlled by remote devices such as a smart phone): 1 percent
Interestingly, IoT product ownership is led by consumers in the two middle-age brackets. Those who are 30 to 44 are most likely to own at least one internet of things product, and those who are 45 to 59 are most likely to own multiple.
And yet these devices demonstrably save energy. Among owners of smart thermostats 45 percent said the device had decreased energy usage. Smart power strips saved energy for 22 percent of the respondents who reported owning one. And smart room air conditioners reduced energy usage for 60 percent of those who reported owning one.
"These devices are just on the cusp of becoming mainstream," said John Hargrove, President and CEO of AESP. "Their ability to save energy is demonstrable, and consumers will be adopting more of them as they replace current devices and the Internet of Things becomes easier to manage and understand. The survey demonstrates that utilities have an opportunity to help consumers save energy by coaching them through IoT device installations and understanding."
About AESP
The Association of Energy Services Professionals (www.aesp.org) provides professional development programs, a network of energy practitioners, and promotes the transfer of knowledge and experience. Our members work in the energy services industry and represent electric and natural gas utilities, public benefits associations, regulatory and non-profit entities, vendors, manufacturers and consulting firms. Founded in 1989, AESP is a member-based association dedicated to improving the delivery and implementation of energy efficiency, energy management and distributed renewable resources.
About Essense Partners
Essense Partners is an award-winning research, strategic marketing and branding firm focused exclusively on the evolving energy sector. Essense is multi-disciplinary: we are energy strategists, researchers, marketers, and branding experts. At Essense we create concrete, meaningful experiences around the intangible, like energy. We exceed our clients expectations by understanding energy business models inside and out, and by embracing technology as an integral part of the customer experience.
Featured Product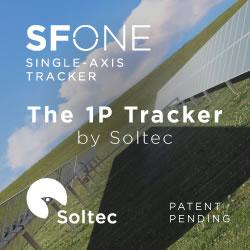 SFOne is the 1P single-axis tracker by Soltec. This tracker combines the mechanical simplicity with the extraordinary expertise of Soltec for more than 18 years. Specially designed for larger 72 an 78 cell modules, this tracker is self-powered thanks to its dedicated module, which results into a lower cost-operational power supply. The SFOne has a 5% less piles than standard competitor, what reduces a 75% the labor time.