With around 50,000 UK deaths a year related to poor air quality and the World Health Organisation estimating that pollution costs £54 billion annually, Matthew Pencharz is highlighting the role of construction sites and temporary power generators
Coventry. 7 February 2018: As the 2018 Executive Hire Show (EHS) takes place in Coventry, Matthew Pencharz, the former Deputy Mayor of London for Environment and current director of Off Grid Energy, is addressing why it is integral for building sites to manage cleaner, renewable energy on-site in the UK.

Warning that we should steer away from temporary power generators in the mission to combat dangerous pollution levels across the capital and other UK cities, Pencharz stated: "While we are beginning to see air quality rocket up the Government's agenda and an increase in public awareness in emissions from road transport, the pivotal role that construction sites and temporary power generators are playing as an important emission source must be acknowledged. With air quality linked to the equivalent of 50,000 deaths a year, a large proportion of which are in London, the Government's action plan has never been more vital."
His comments come as other major players in the industry realise the concern, with a coalition of industry experts calling on the Government to bring in a new Clean Air Act and the World Health Organisation predicting that pollution costs the UK £54 billion a year. In London, construction equipment accounts for at least 7% of Nitrogen Oxide emissions, of which roughly 25% is due to temporary power generators.
"There is a very high amount of construction activity in the UK's urban areas, meaning that there is a high human exposure to dangerous emissions. Fortunately, there are technical solutions readily available for the construction industry to play its part in reducing the air pollution while even saving money," he continued.
The battery storage technology from Off Grid Energy's offering was built to deliver affordable, high-performance solutions while also reducing the amount of emissions by only burning fuel when it is at its most efficient. By utilising this technology, a battery and diesel generator can be used in tandem to create a hybrid system just as you would in the automotive industry. In times of low load, just the battery runs, while in times of high load or when the battery needs charging, the generator is switched on, saving up to £500 a week in fuel costs and 2.5 Tonnes of CO2.
"In built-up areas where construction sites are often located, battery storage technology is perfect. Not only is it silent during battery-only operation, but it is a triple win - offering healthier air, less carbon dioxide and less cost."
Pencharz's comments come the same day that Off Grid Energy launched its new Universal Hybrid Power Unit at EHS, which reduces generator running hours and allows for the use of smaller generators, resulting in significant improvement in fuel efficiency, substantial reduction in polluting emissions and CO2 as well as noise pollution - all while cutting costs.
"The challenge to deliver clean air to London and the UK cannot be ignored by any sector, not least the construction industry. With children as young as eight and nine growing up in areas of poor air quality causing them to have up to 10% smaller lung capacity than normal, technology such as Off Grid Energy's, delivering environmental and financial benefits, can help the Government with their aim to tackle toxic air substantially," concluded Pencharz.
For more information or to speak to Matthew Pencharz directly, please contact Brittany Montzka-Caceres at brittany.montzka-caceres@proactive-pr.com or at +44 (0) 1636 704888.
Featured Product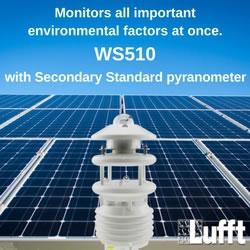 Professional weather sensors form the heart of large solar plants supporting their operation and performance. Lufft was the first manufacturer to combine several sensors in one housing, bringing the largest multiparameter weather sensor family with 19 members into being. Many of them are well-suited for solar site assessment and continuous monitoring. The most commonly used one is the WS600 delivering data on temperature, air pressure, wind, relative humidity and precipitation. Through its open protocol, it can easily be attached to radiation sensors e.g. from Kipp&Zonen. Other models have an integrated Silicon, Second Class or Secondary Standard radiation sensor.