Kantor will share insight on how the newly published 802.16s standard and private wireless network technologies like Full Spectrum's FullMAX™ are enabling greater security and reliability of the U.S. electric grid
SUNNYVALE, Calif., June 08, 2018 -- Full Spectrum, a leading supplier of private licensed broadband cellular data networks, announced that its CEO, Stewart Kantor, will be speaking today on the topic of Cybersecurity & the Electric Grid at the Lexington Institutes Capitol Hill Forum. The forum will take place at 12:00pm EST at the U.S. Capitol Visitor Center, room 201AB in Washington D.C. ™

The purpose of this forum will be to discuss the threat our nations security and economic stability would face if a cyberattack on the electric grid were to result in a widespread power outage. It will also highlight the tools, policies and strategies that can be implemented to ensure these cyber threats do not compromise the grid.
In his presentation, Mr. Kantor will share insight on how private, licensed, wireless networks that are built to the new worldwide IEEE 802.16s wireless standard, like Full Spectrums FullMAXTM network and technology, can help separate critical functions of the grid to greatly reduce exposure to hacker entry points. He will also elaborate on how private networks that use licensed spectrum provide greater reliability within critical grid operations, allowing for a faster response, isolation of servers and restoration of services in the event of a cyberattack.
Mr. Kantor was selected as a speaker due to his work with U.S. utilities to secure their wireless data communications networks from threats including cyberattacks and natural disasters. He has also been an active thought leader on the topic of grid security, contributing to stories on recent grid cyber threats. Full Spectrums insight and technology were utilized in the creation of the new worldwide 802.16s standard and have been integrated into smart grid networks and other mission-critical industries across the U.S. including oil & gas, transportation, defense and water utilities.
"I am thrilled to share our perspective on the state of the electric grids security with other industry experts who also understand the importance of tackling this issue," said Stewart Kantor, CEO at Full Spectrum. "We have been emphasizing the importance of grid security and reliability for over 15 years; we realize that our robust and world leading digital based economy is becoming increasingly reliant on 'perfect power delivery but also understand that cyberattacks have emerged and will remain a significant threat. New standards like 802.16s are designed to help utilities adopt private wireless networks for Mission Critical Industrial Internet connectivity (MC-IoT) without taking on the added risks that public cellular or unlicensed networks create for the grid."
This forum commences following a concerning year for the security of the nations power grid. Last year, a virus known as "Industroyer" or "Crash Override" was purposely aimed at disrupting and damaging utility equipment and causing electricity blackouts. Earlier this year, the FBI and DHS announced that Russian hackers have been actively attacking the U.S. power grid. As these threats elevate, its critical for utilities, policy makers and technology providers to work together to identify new approaches to protect the grid.
For more information on this forum, please visit http://www.lexingtoninstitute.org/capitol-hill-event-cybersecurity-electric-grid-6-8-18/
About Full Spectrum
Full Spectrum Inc. is a private network service provider that also designs, develops, manufactures, sells and supports its multi-patented, Software Defined Radio (SDR) technology. Mission critical industries including utilities, defense, oil & gas, and transportation companies can either subscribe to an existing Full Spectrum network or purchase and deploy the Companys SDR technology for their own private broadband cellular network. Full Spectrums SDR technology supports IEEE 802.16s, the new worldwide standard for private wide area industrial networks.
Corporate Contact:
Robert Burchard
Director, Business Development
Full Spectrum Inc.
rburchard@fullspectrumnet.com
Media Relations Contact:
Fabricio Costa
Account Executive
FischTank Marketing & PR
fabricio@fischtankpr.com
Featured Product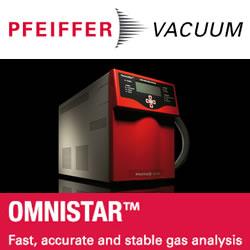 The Pfeiffer Vacuum OmniStar benchtop analysis system offers you a compact footprint, powerful software and Ethernet connectivity. It's the optimum solution for many real-time gas analysis applications. With the OmniStar, Pfeiffer Vacuum offers you a complete solution for gas analysis, in chemical processes, semiconductor industry, metallurgy, fermentation, catalysis, laser technology and environmental analysis. The turnkey OmniStar gas analysis system consists of heated, temperature-regulated gas inlet system, Quadrupole mass spectrometer, a dry diaphragm vacuum pump and HiPace turbopump. Unlike competing methods such as FTIR, OmniStar is suitable for qualitative and quantitative analysis of most gases.