New inverters and a power optimizer will be added to SolarEdges commercial PV suite
MUNICH, GERMANY (June 14, 2018) - SolarEdge Technologies, Inc. ("SolarEdge") (NASDAQ: SEDG), a global leader in smart energy, is expanding its commercial solution with the launch of larger-capacity three-phase inverters with synergy technology and a multi-input power optimizer in order to further improve the scalability and performance of its commercial PV systems.

SolarEdge is increasing the capacity of its three-phase inverters by 20% to now include 33kW and 40kW, while the range of its three-phase inverters with synergy technology will now reach up to 120kW. The new range of inverters adds a number of innovative features, including the introduction of SolarEdges new user interface for simplified installation and commissioning. In addition, its innovative PID Guard mitigates and prevents the build-up of PID and is fully embedded into the inverter.
Furthering the scalability of its commercial power optimizers, SolarEdge is launching its M1500 power optimizer that has two inputs and two MPPTs for connection of up to four panels. The new commercial power optimizer allows for up to 35% more power per string, with strings up to 20.5kW.
"After introducing our commercial inverters with synergy technology, we are committed to continuing to enhance the features and capabilities of our solutions through innovation and engineering excellence," stated Lior Handelsman, VP of Marketing and Product Strategy of SolarEdge, founder. "With the industry looking for solutions to improve the scalability and economics of commercial PV systems, while still benefiting from optimization and high-resolution monitoring, we are leading the way with our new solutions that drive future progress."
Intersolar Europe attendees are invited to visit the SolarEdge booth, located at Hall B3, Booth 110, to meet with local and global members of our management and sales teams, learn more about SolarEdge's newest product offerings, and participate in daily booth tours.
About SolarEdge:
SolarEdge is a global leader in smart energy technology. By leveraging world-class engineering capabilities and with a relentless focus on innovation, SolarEdge creates smart energy solutions that power our lives and drive future progress. SolarEdge developed an intelligent inverter solution that changed the way power is harvested and managed in photovoltaic (PV) systems. The SolarEdge DC optimized inverter maximizes power generation while lowering the cost of energy produced by the PV system. Continuing to advance smart energy, SolarEdge addresses a broad range of energy market segments through its PV, storage, EV charging, UPS, and grid services solutions. SolarEdge is online at http://www.solaredge.com
Featured Product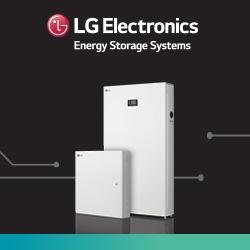 LG Solar is transforming today's solar landscape, offering precision-manufactured and high-efficiency solar panels for homeowners who demand high performance, reliability and consistently strong energy yield from a brand they can trust. LG modules feature outstanding durability, appealing aesthetics and high-efficiency technology, backed by a limited 25-year product, performance and labor (up to $450) warranty. Homeowners who purchase LG Solar modules know they're protected by a diversified global brand.