The CI Labs Platform will provide additional options for projects seeking funding by opening access to Standard Solars $500M+ project finance and ownership fund
In its continuing efforts to streamline the efficiency of commercial solar financing for businesses, organizations, municipalities, educational institutions and other entities, Standard Solar is teaming with CI Labs, an industry leader of commercial and industrial underwriting, engineering and financing analytic platforms, to significantly increase transaction efficiency for solar projects and provide faster and easier access to its in-house capital. Click to tweet.

@StandardSolar and CI Labs team up to help #solar developers and #EPCs navigate the #commercial #financing process. Sneak preview this week at #IntersolarNA https://ctt.ec/fWxa5+
Tweet this
As described in Standard Solars commercial financing primer "Commercial Solar Financing - The Definitive Guide," solar customers face multiple challenges when it comes to project financing, including operating in a complicated market where customized solar financing solutions are increasingly paramount. Download a free copy, click here.
The CI Labs Platform, when paired with access to Standard Solars capital resources, will give the industry a means to evaluate options for customers in a more efficient manner and provide faster funding for projects should the customer decide to move forward.
"Traditionally, the solar project space has been murky in terms of the ability of finance providers to give solid guidance on the necessary blend of credit underwriting criteria and independent engineering requirements for a viable fund portfolio," explained Shaun Laughlin, Head of US Strategic Development for Standard Solar. "Our work with CI Labs will allow us to compress and clarify the process for developers and increase the velocity of our capital deployment."
The team from CI Labs has more than 20 years combined solar industry experience, and Nathan Homan, Co-Founder of CI Labs, helped to create one of the solar industrys leading commercial & industrial underwriting and analytic financing platforms.
"We believe that our industry experience, combined with the leverage of Standard Solars low-cost project finance options, will enable capital providers, developers and solar investors to close projects with much greater ease and efficiency," said Homan.
Standard Solar and CI Labs will be attending Intersolar 2018 this week—to schedule a meeting and/or submit a project for financing, please contact Travis Tate (travis.tate(at)standardsolar(dot)com, 301-944-5140) to learn more.
About Standard Solar
Standard Solar, Inc. is a leading solar energy company specializing in the development and financing of solar electric systems nationwide. Dedicated to making Distributed Generation (DG) solar more accessible to businesses, institutions, governments and utilities, the company is forging the path for clean, renewable energy development through turnkey solutions. With more than 100 megawatts installed, financed and maintained, Standard Solar is one of the most trusted and respected solar companies in the US. Owned by Énergir, a leading energy provider with more than $5.8 billion US in assets, Standard Solar operates nationally and is headquartered in Rockville, Md. For more information, please visit www.standardsolar.com
About CI Labs
CI Labs, based in Southern California, enables developers and project finance companies through its analytics platform to work towards efficiently evaluating solar project opportunities. Our teams deep experience in underwriting, credit assessment, and solar finance assists in speeding up the sales cycle and allows our customers to focus on transacting on more projects. The automation of the platform provides an easy, transparent approach to assess project opportunities while providing the standardization that is necessary to successfully transact. For more information, please visit www.cisolarlabs.com
Featured Product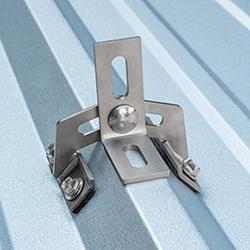 QuickBOLT Low Profile QuickBOLT with Microflashing™ is the industry's affordable, UL Certified Asphalt Shingle mounting system. The Microflashing™ is compressed by the collar on the bolt to create a water-tight seal. With an installation time of less than one minute, the Low Profile QuickBOLT allows installers to complete more jobs.