Since launching in 2007, Voltronix has implemented high-quality, reliable, and affordable lithium ion batteries solutions and battery management systems (BMS). The company has developed and commercialized battery technologies for numerous applications
LAGUNA BEACH, CA, Nov. 19, 2018 (GLOBE NEWSWIRE) -- via NEWMEDIAWIRE-- Korver Corp. (OTC: KOVR) ("Korver" or the "Company") today announced it has entered into an definitive agreement to acquire Voltronix USA, Inc., ("Voltronix") a Nevada corporation engaged in the development of lithium ion battery solutions, battery management systems, and related technologies for the electric vehicle and energy storage markets.

Pursuant to the Stock Purchase Agreement executed by the parties, Korver will acquire 100% of the issued and outstanding shares of Voltronix USA in exchange for a combination of cash and restricted shares of the Companys common stock. The Company anticipates closing the acquisition in December or sooner.
Since launching in 2007, Voltronix has implemented high-quality, reliable, and affordable lithium ion batteries solutions and battery management systems (BMS). The company has developed and commercialized battery technologies for numerous applications, such as ATVs and recreational vehicles, electric vehicle (EV) conversions, energy storage, OEMs, and even boats.
Voltronix green energy products and services include; 1) Supplying lithium ion batteries from 10Ah up to 1000Ah, including cylindrical with Voltronix BMS technology; 2) Designing battery packs custom-built to specific applications with BMS, chargers, and related components; 3) Providing technical support and service with local competency and expertise based in the USA.
Voltronix is working with the University of Arizonas technology transfer unit, Tech Launch Arizona (TLA), to commercialize a disruptive nano-structured electrode technology for existing batteries in electric vehicles with the long-term goal of solving the problems associated with EV batteries. The result is considerable improvement in charging rates, storage capacities, safety and production costs as compared to other nano-technology batteries currently proposed. Development is ongoing.
The Company is also pleased to report that Sang-Ho Kim has been appointed as KOVRs new CEO, President, and Director. Mr. Kim brings a wealth of knowledge and years of experience in the private and public markets. Mr. Kim, an electrical engineer by training, began his early career with major firms such as Schneider Electric, Square D and Asea Brown Boveri Group. He has been an entrepreneur involved in numerous start-up companies in alternative energy and technology. He has also been the founder and executive member of several public corporations. Mr. Kim has most recently served as the CEO and founder of Avenon Energy Corp., a utility scale solar, wind turbine and hydro power generation project developer. Mr. Mark Brown, former CEO and President, will remain with the Company in his position as Secretary and member of the Board of Directors.
Mr. Kim commented, "Its an honor to have been given the opportunity to lead Korver Corp. as its new CEO and President. I look forward to helping the Companys achieve its short and long-term strategic goals in alternative energy and to build lasting shareholder value."
Closing of the Voltronix USA, Inc. acquisition is subject to customary terms and conditions such as, but not limited to, the satisfactory completion of due diligence, funding, and receipt of any required regulatory approvals.
The Company anticipates releasing additional information regarding the acquisition and its combined business development strategy over the next few weeks. For additional information regarding Voltronix USA, visit www.voltronixusa.com.
About Korver Corp.
Korver Corp. (OTC PINK: KOVR) is an emerging solar and renewable energy company focused on the development and commercialization of high-efficiency Perovskite Silicon Tandem Solar Cells. Korver Corp. is based in Laguna Beach, California.
Additional information regarding Korver Corp. and can be found at www.korvercorp.com.
Safe Harbor Declaration
Any statements contained in this press release that do not describe historical facts may constitute forward-looking statements as that term is defined in the Private Securities Litigation Reform Act of 1995. Any forward-looking statements contained herein are based on current expectations but are subject to many risks and uncertainties. The factors that could cause actual future results to differ materially from current expectations include, but are not limited to, risks and uncertainties relating to the Company's ability to develop, market and sell products based on its technology; the expected benefits and efficacy of the Company's products and technology; the availability of substantial additional funding for the Company to continue its operations and to conduct research and development, and future product commercialization; and the Company's business, research, product development, regulatory approval, marketing and distribution plans and strategies.
Featured Product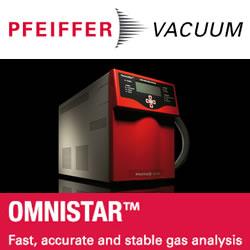 The Pfeiffer Vacuum OmniStar benchtop analysis system offers you a compact footprint, powerful software and Ethernet connectivity. It's the optimum solution for many real-time gas analysis applications. With the OmniStar, Pfeiffer Vacuum offers you a complete solution for gas analysis, in chemical processes, semiconductor industry, metallurgy, fermentation, catalysis, laser technology and environmental analysis. The turnkey OmniStar gas analysis system consists of heated, temperature-regulated gas inlet system, Quadrupole mass spectrometer, a dry diaphragm vacuum pump and HiPace turbopump. Unlike competing methods such as FTIR, OmniStar is suitable for qualitative and quantitative analysis of most gases.