Leading insurer warns that competition on costs and tighter build schedules have created a new, higher 'normal' loss expectancy for renewable energy projects
Newport Beach, Cali., April 2, 2019 - Component vulnerability, defective designs and changing OEM warranties, coupled with extreme weather damage, have significantly increased the frequency and severity of insurance claims in the US renewable energy market over the last five years. In response, insurers and asset owners must reset their benchmark for renewable energy risks, in line with this higher 'normal' loss expectancy.

This is according to GCube Insurance, the leading specialist provider of renewable energy insurance services worldwide. At GCube's 15th Advisory Council last month, which gathered the leading asset owners and risk managers in the US renewable energy market for an open discussion of renewable energy risks, concerns were raised about the impact of cost pressures, both on the integrity of assets and on sustainable insurance pricing.
In particular, accelerated build times have led to a hitherto unforeseen amount of material damage incurred during construction. As construction firms have come under pressure to build projects more efficiently and in shorter timeframes, less experienced personnel are being used to handle increasingly complex equipment, resulting in a higher frequency and severity of claims.
Simultaneously, two key factors have led to higher costs arising from component failure. Firstly, increased complexity means that components are harder to replace in isolation. In wind energy, with newer blades, any component damage may mean replacing the entire blade, which raises O&M costs.
Secondly, uncertified models still exhibit design issues that can lead to equipment failure. While this issue may be resolved over time, continued technical innovation in the sector means that both wind and solar projects remain vulnerable to mechanical and electrical breakdown.
The recent focus on cost-cutting and efficiency has also led to diminished OEM warranty strength. In light of increased losses and amid financial pressure, the scope and quality of OEM guarantees has been reduced, meaning that asset owners may end up without sufficient OEM support when equipment fails.
As GCube highlighted earlier this month, these issues are exacerbated by extreme weather risk, with events such as wildfires, hurricanes and tornadoes now occurring out of season and rising to 15% of all claims in 2018. Indeed, for 2019 GCube predicts high levels of extreme weather losses, including continued wildfire claims in California, tornado damage in the South East and the trail of devastation left by another potentially active hurricane season.
The Advisory Council meeting invited a dialogue between insurers and insureds as a way to tackle these issues collectively. Insurers must adjust their loss expectancy to match the changing nature of risk; in turn, project owners must communicate their needs and project-specific features to their insurance partner.
Jatin Sharma, President of GCube Insurance, said, "The renewables market has started to outgrow subsidies, and with that comes a whole new level of competition. This pressure often has unforeseen results: apart from anything, increased M&A activity means you might end up with a project with a loss history that isn't factored into calculations."
Sharma added, "We cannot overstate the benefits of open discussion between insurers, asset owners and investors. There are concerns within renewables that as the industry has matured, the insurance market has not kept up. Frankly, if we want to protect our future renewables growth, we collectively need to accept that it's not the same industry as it was five years ago."
"Increased price competition and a rush to acquire developer pipelines mean that some areas of the industry pose a much higher risk than before - and some aspects are more routine. It's time to adjust our expectation of 'normal' risk."
About GCube
GCube is the leading provider of insurance services for renewable energy projects in wind, solar, wave, hydro and tidal around the globe.
Its specialized focus and robust underwriting authority offers unparalleled marine, property, liability and political risk insurance coverage for all renewable energy risks. With over 25 years' experience in the renewable energy sector, GCube understands the unique exposures of these power generation projects and assists its clients in identifying, quantifying and mitigating risk efficiently and economically while helping them achieve their business objectives.
To learn more about how we can support your insurance coverage requirements, please visit our website at www.gcube-insurance.com.
Featured Product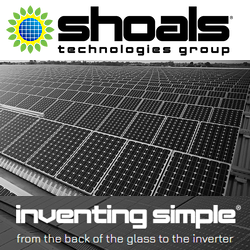 Inventing Simple® isn't just a slogan to us, it's a way of life. Using simple plug-and-play ideology, we revolutionized solar installations in 2003 with our Interconnect System™. Our harnessing system is now the gold standard EPC's use around the world. By using simple ideas, we are making solar energy a more affordable and clean power source for future generations.