The global concentrated solar power market is growing at a registered CAGR of 13.8% from 2022 to 2030. The concentrated solar power market is expanding as a result of increased energy demand and the possibility to produce power without emitting CO2, as well as rising government assistance for the adoption of renewable technology.
Using mirrors to reflect sunlight, concentrated solar power (CSP) is a method of producing electricity. Natural sunlight is reflected, focused, and concentrated by the mirrors into a particular area, where it is subsequently turned to heat. The steam produced by the heat is then used to power a turbine to produce electricity.

As per to Precedence Research, the global concentrated solar power market size was accounted at USD 47.35 billion in 2022 and it is expanding around USD 133.43 billion by 2030 with a CAGR of 13.8% over the forecast period 2022 to 2030.
Growth factors
The market is expanding as a result of increased energy demand and the possibility to produce power without emitting CO2, as well as rising government assistance for the adoption of renewable technology. Additionally, the growth in carbon emission-related environmental problems leads to a focus on reducing air pollution and an increase in awareness of global warming. This aspect is also anticipated to boost market expansion. The high cost of producing concentrated solar electricity, however, restrains the market's expansion throughout the projected timeframe. Additionally, the industry is expected to benefit greatly from an increase in investment in renewable energy from various businesses and from a rise in the use of heat storage systems.
Growing environmental worries about carbon emissions and efforts to reduce air pollution are blamed for the market rise. Strict government initiatives to reduce the expanding carbon footprint, along with financial incentives offered to encourage the adoption of alternative energy sources, are anticipated to accelerate market expansion. The high cost of concentrated solar power technology, however, may prevent it from being widely used unless and until it is supported by institutional and regulatory authorities at all levels of government. Due to the requirement to reduce carbon emissions in the troposphere, the worldwide CSP market is anticipated to expand faster than average during the forecasted period. Solar energy is used as an accessible source of power generation and helps to lower carbon dioxide emissions and energy costs.


The demand for solar energy is rising rapidly globally as people's awareness of the benefits of renewable energy sources and concern over climate change increase. As a result, the market for concentrated solar power is growing.


Rising Interest in and Demand for Solar Energy


Why The demand for high thermal storage salt will increase as more CSP power plants use it.


Favorable government standards for integrating renewable power across the grid network to accelerate the building of CSP power plants


Increasing efforts to reduce air pollution and conservation worries about carbon emissions.


Key market drivers

Government assistance to encourage the use of renewable technology
Sources of renewable energy occurs in many different forms, such as solar, hydropower, wind, biomass, wave, geothermal, and tidal energy. Governments in various countries are encouraging the creation of renewable energy through tax incentives, subsidies, and loan programs, which has encouraged investors as well as project developers to switch to the production of renewable energy. Such positive activities have helped these technologies develop on a commercial level as well.
More efficient as compared to other solar system channels
Concentrating Solar Power systems are more effective than other solar systems because of their storage capacity, which is important in nations with higher power demand and lower energy productivity. Because of their storage capacities, Concentrating Solar Power systems also benefit nations with moderate to low solar energy inputs. The tanks used by Concentrating Solar Power systems to store thermal energy are later used when there is a greater demand for energy. This feature has prompted the introduction of fresh technologies to the market, which has accelerated the expansion of the Concentrating Solar Power industry as a whole.
The market expansion for concentrated solar power is also guaranteed by the hybridization of two or more solar systems. This versatility of the Concentrating Solar Power systems is regarded as a key business opportunity since it allows for the integration of multiple technologies and the use of various energy sources.
The U.S. Department of Solar Energy Technologies Office keeps supporting concentrating solar power systems by assisting in the enhancement of their functionality, durability, and dependability of their materials, which lowers the cost of electricity. According to the report, new developments have contributed to a 50% reduction in electricity expenses. The SETO is still working toward its objective of $0.05 per kilowatt-hour.
Key market challenges

Higher generation costs in comparison to other renewable energy sources
Solar power concentrating technology is quite capital intensive. Heliostat fields, thermal energy, power blocks, receiver fields, and towers are the components utilized in the solar towers. The power block, thermal energy storage system, solar fields, and heat transfer fluid system are the main parts of parabolic troughs. The early investment costs, which make up around four-fifths of the total cost of energy, dominate the cost of energy of concentrating solar power. Also, According to IRENA, the solar fields are the most expensive component of parabolic trough technology, accounting for 35 to 50% of the total installed costs of the projects. The heat transfer fluid only makes up 8 to 11% of the total cost in the projects under evaluation. As a result, the industry for concentrating solar power is the most restricted.
Key market opportunities

Use of CSP in the process of enhanced oil recovery and at the destination
Humans find it challenging to drink salty water, but through the desalination process, salty water can be converted into water that is suitable for human consumption. Around the world, the technique is frequently employed to get drinkable water. Enhance oil recovery, often referred to as tertiary recovery, is the process of obtaining oil that hasn't been recovered using secondary or primary oil recovery procedures. The combination of CSP with EOR and desalination has not only reduced the region's water shortage but also lengthened the life of oil assets.
The Emirates Solar Industry Association forecasts Saudi Arabia's consumption for domestic oil would surpass exports. Also in remote areas that by 2027, CSP can make it easier to generate electricity and integrate EOR. Desalination and CSP can be combined to cut expenses and provide a abundant supply of clean water. As a result, the market for concentrating solar power will experience rapid growth throughout the forecast period.
Segments in the concentrated solar power market

Technology Insights
The market is divided into segments based on technology: parabolic trough, dish, linear fresnel, and power tower. Due to widespread adoption of the design, simple installation, and convention, the parabolic trough technology category had the highest revenue share in 2022.
Having a market value of USD 388 million in 2022, the power tower concentrated solar power technology segment is expected to experience a subsequent increase in installed capacity over the projected period, primarily due to economically assessed products, alongside improved designs and many other aids. Large expanses are a requirement for building power towers, so the technology is being widely used in the market, particularly in countries with land availability. By 2032, it is anticipated that the linear fresnel technology segment would generate USD 652.0 million. The use of less expensive flat glass mirrors and the straightforward design involved with the approach are principally responsible for the segment growth. Additionally, these systems require less steel and concrete support structure, indicating lower installation costs and simple assembly.
Application Insights
The CSP market is divided into utility, desalination, EOR, and other segments depending on the application. With 63.9% of total sales in 2019, the utilities application segment had the highest revenue share. Significant concentrated solar power projects, particularly in Morocco, Saudi Arabia, the United Arab Emirates, and China, are what drive the segment's growth in the Middle East, Africa, and Asia Pacific. Additionally, the requirement to produce renewable power along with the storage technologies to meet the rising demand for electricity in the residential regions is what drives the utility areas' desire for CSP.
The promising government initiatives and laws on promoting the implementation of renewable energy sources are the key reasons why it is projected that the utilities segment will experience significant growth over the projection period. The segment growth will be boosted through 2032 by a number of economic and monetary perks, such as Feed-in Tariffs and tax credits, offered by the government.
By 2032, it is expected that, Enhanced Oil Recovery also known as EOR application segment, which is quickly expanding, would have more than 123.0 Megawatt of capacity. In this use, oil fields are heated with steam generated by concentrated solar power plants for tertiary recovery. The implementation of this technology in countries that produce crude oil would promote the expansion of the CSP market. Due to continuous Research and Developmment in the market, the other sector, which had a 2019 market value of USD 904.6 million, is anticipated to experience significant increase over the projected period.
Geography Insights
Due to a rise in the number of concentrated solar power plant installations, Asia Pacific held a 49% share of the global CSP market in 222. China is anticipated to expand significantly between 2020 and 2027. It is mostly attributable to the market being driven by rising investments in concentrated solar power for grid placements. Additionally, the requirement to continuously supply renewable energy to sustain expanding fiscal operations is fostering market expansion in the area. Due to favorable government policies in several of the region's countries, Europe is predicted to grow at a CAGR of 16.34% from 2023 to 2032.
North America was the second biggest regional market in 2022, with a market value of USD 910.4 million. The market will expand in the MEA, where Morocco is one of the world's top users of concentrated solar power, thanks to continuous significant development investments and investors' shifting attention to renewable energy sources.
Ask here for more details | Call: USA - +1 9197 992 333 | Email: sales@precedenceresearch.com
Featured Product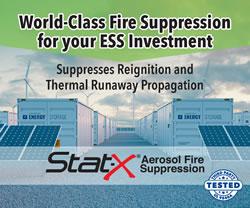 Stat-X® condensed aerosol fire suppression is a solution for energy storage systems (ESS) and battery energy storage systems (BESS) applications. Our Stat-X condensed aerosol fire extinguishing product was tested for efficacy in suppressing li-ion battery fires. It was found that the product successfully extinguished single and double cell battery fires. This testing was conducted in parallel with a large battery fire testing program on behalf of a large energy storage company.