Innovative, Tech-driven Process Delivers Lower Cost and Quicker Project Completion; New Opportunities for Installers
LONG BEACH, Calif., Feb. 14, 2023 - Renogy X, a solar solutions provider purpose-built to solve the most common challenges in residential solar, today entered the market in California.

The new company is powered by Renogy, the leader in off-grid solar for more than a decade.
Renogy X is the first manufacturer in the industry to sell direct-to-consumer using sophisticated e-commerce and digital project management. The result: delivery of rooftop solar and storage projects with improved customer experience, lower cost, and shorter turnarounds.
In addition to providing a better solar buying experience to consumers, the company is creating new opportunities for installers become part of the Renogy X network, and for dealers to sell complete Renogy X systems to their own customers -using the company's industry-leading sales, project planning and management tools.
Renogy X provides complete rooftop systems, including its own solar modules, inverters, and battery storage. The company has created system kits to simplify project planning, as well as selling individual components.
"For more than a dozen years, Renogy has worked to help off-grid customers design and build innovative solar solutions with unmatched price-performance," said Yi Li, Renogy's founder and CEO. "With Renogy X, we expect to deliver an equally satisfying and innovative experience to residential solar customers."
Homeowner Solution
For consumers, Renogy X has created an all-new digital buying experience that pairs an innovative technology platform with customer success specialists (CSS) who guide the residential solar experience from start to finish. The platform is AI-powered for speed and accuracy.
Using a simple on-line tool, customers provide basic information and receive a detailed and transparent estimate in minutes - no lengthy sales visits required. Thanks to direct manufacturer pricing - and the absence of sales commissions - Renogy X is able to price most systems well below the industry leaders.
With its network of top-tier installers, Renogy X guides every aspect of the project: planning, equipment sourcing, permitting, installation and inspection. Consumers receive project updates in real time via the Renogy X project management system, including real-time chats with their CSS. Streamlined access to financing also is available through the Renogy X platform.
"As a pioneer in solar technology, Renogy is perfectly positioned to solve the challenges that have frustrated residential solar customers," said Josh Schlipp, president of Renogy X, who has spent nearly 20 years in the solar industry.
"Customers want a simple process, along with pricing that's fair and transparent. They expect their projects completed in a timely fashion, without the delays that can be caused by supply chain issues. Renogy X answers these challenges and will deliver a customer experience that's second to none."
Installer and Dealer Opportunities
As part of its direct-to-consumer offering, Renogy X is building a network of the industry's best solar installers. These Renogy X-trained installers will use a dedicated section of the Renogy X portal to plan projects, order equipment and track orders. Technical support specialists will be available via live chat.
Renogy X also will sell all-in-one, kitted offerings directly to residential solar dealers - saving them the time and expense of working through a distributor - and enabling them to provide a lower-cost, high-performance rooftop and storage option to their own customers.
"Installers and dealers are vital partners in our mission to transform the residential solar experience," Schlipp said. "We will provide them with back-end systems and training that are second to none, enabling them to close deals more quickly, complete more installs and grow their business."
Renogy X channel partners will have access to best-in-class digital tools to help them grow and scale faster: A professional web portal will help them track and manage projects, and an integrated mobile app will enable crews to handle site audits on premises and in real time.
An on-line solar design tool will use AI to size Renogy X systems and produce permit-ready drawings. System templates will produce professional proposals in seconds; Renogy X offers full deal origination with integrated financing option.
About Renogy X Residential Solar
Renogy X is offering complete rooftop solar solutions that include solar panels, inverter and battery storage.
Renogy X will begin taking orders from California homeowners and installers by April 1.
Interested homeowners can visit renogyx.com for more information and to be alerted when the Renogy X platform goes live. Dealers and installers interested in working with Renogy X can go to renogyx.com
About Renogy
Renogy is a leader in solar and sustainable energy with a mission to dramatically accelerate the adoption of clean energy solutions for everyone around the globe. Renogy's all-in-one solutions are easy to choose, install and operate, and the company's solar panels, accessories, portable products, and batteries deliver more power for the best value on the market today. All so that more people can enjoy the benefits of clean, renewable energy at home, off-grid or on the move. Renogy's goal is to help 50 million people achieve energy independence by 2030, freeing them of the burden of harmful emissions, rising energy bills and disruptive power outages.
Learn more about Renogy at https://www.renogy.com/.
Featured Product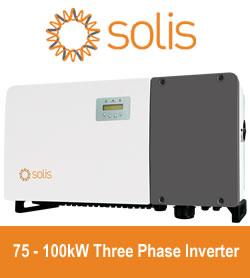 Solis75kW - 100kW series high-power string inverters are widely used in industrial and commercial rooftops. Solis's new three-phase string inverter is the first choice for industrial and commercial photovoltaics. 75-100kW three phase series string inverter have Maximum 28 strings input, support "Y" type connection in DC side. Maximum string input current 13A, support bifacial modules access.Supports anti-PID function to improve system efficiency.