Series B funding comes soon after $10 million contract from the U.S. Government to develop the first large-volume silicon oxide anode manufacturing facility in the Midwest
CHICAGO, February 14, 2023 -- NanoGraf, an advanced battery materials company and enabler of the world's most energy-dense lithium-ion 18650 cell, today announced that it has raised $65 million in an oversubscribed Series B funding round.

The funding round was co-led by Volta Energy Technologies and CC Industries (CCI) with participation from GIC, Emerald Technology Ventures, Material Impact, Arosa Capital, Nabtesco Technology Ventures, and TechNexus. Existing investors including Hyde Park Angels, Evergreen Climate Innovations, and Goose Capital also participated in the round. NanoGraf had previously raised a total of $27 million in funding from a mix of venture, angel and non-dilutive funding sources.
The U.S. battery supply chain issues brought on by unprecedented market demand is prevalent now more than ever, and NanoGraf is committed to onshoring key strategic components of the battery supply chain, aligned with President Biden's Inflation Reduction Act for clean energy and infrastructure projects. NanoGraf's Series B funding supports onshoring of its silicon anode production in Chicago, as well as the continued development, production and supply of advanced lithium-ion technologies.
"NanoGraf's breakthrough silicon technology further exemplifies our commitment to extending the energy and power performance characteristics of today's lithium-ion batteries for a sustainable electrified future. I'm incredibly proud of the technologies and products our team has developed over the last 36 months," said Dr. Francis Wang, CEO of NanoGraf. "This funding not only ensures a domestic supply of a key strategic component of next generation lithium-ion batteries, but also enhances our national competitiveness in the global energy storage space."
The announcement of the Series B funding comes on the heels of two major announcements for NanoGraf. In November of 2022, the company was awarded a $10 million contract from the U.S. Government to develop the first advanced silicon anode manufacturing facility in the Midwest. Just one month prior, in October of 2022, NanoGraf set a new industry benchmark for the most energy-dense lithium-ion 18650 cell, with more than 20% higher energy density than the industry's leading cells today.
"Nanograf's technology promises to enable higher energy density in lithium-ion batteries, in a way that uses silicon with what is practically drop-in to existing battery manufacturing processes," said Jeff Chamberlain, CEO of Volta Energy Technologies. "Volta is excited to add Nanograf to its growing portfolio of advanced technology that will be part of the important supply chain of advanced battery and related technology. We are equally enthused by the quality of the group of investors in this round of financing being announced today."
To learn more about NanoGraf, visit www.nanograf.com
About NanoGraf
NanoGraf is an advanced battery material company whose patented silicon-anode technology enables longer-lasting, higher-energy, and higher-power lithium-ion batteries. NanoGraf works with more than 50 companies, including some of the world's leading consumer electronics, household appliance, and power tool brands, and over 12 strategic partners in electric mobility (from startups to Fortune 100s). NanoGraf is a spinout of Northwestern University and Argonne National Laboratory. For more information, visit www.nanograf.com.
About Volta Energy Technologies
Volta identifies and works with entrepreneurs and companies to solve their most important technical challenges while providing its strategic investors the opportunity to invest in and acquire the most promising of these technology companies. Volta serves investors from across sectors of the energy system, who have complementary strategic interests in identifying breakthrough energy storage-related technology that will enable ubiquitous adoption of both electric vehicles and renewable power generation.
Volta works to validate transformative technologies and businesses through collaboration with leading institutions, including through its research agreement with Argonne National Laboratory. Volta's focus is on technologies and businesses that impact applications in transportation, the electric grid, and portable electronics. Volta is designed to create strategic advantages for our corporate partners' core businesses and deliver financial returns.
To learn more about Volta Inc, visit www.volta.vc
About CCI
CCI, an affiliate of Henry Crown and Company, is a Chicago-based holding company for the Crown family. CCI invests, via late-stage venture and growth equity, in businesses focused on environmental sustainability. The family enterprise was founded in 1919 by Henry Crown and his brothers.
To learn more about CCI, visit www.ccindustries.net
Featured Product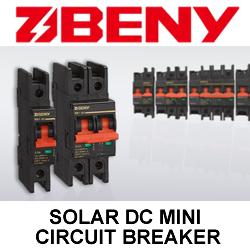 The BB1-63 modular miniature circuit-breakers can be used in solar DC circuits up to 1200 VDC (4-poles execution). Application in solar DC circuits, battery energy storage systems and UPS. Arc flash barrier design keeps solar equipment more safe and reliable. For DC circuit over-current protection.