The solar power market has become one of the most promising sources of clean energy in recent years. The global solar power market is poised to grow at a CAGR of 7.2% over the forecast period 2023 to 2030.
The solar power market has become one of the most promising sources of clean energy in recent years. As countries and businesses around the world invest in solar panels and related technologies, the market has seen significant growth. In this blog, we will explore the reasons behind the growth of the solar power market and its potential for the future.

One of the main drivers behind the growth of the
solar power market
is the decreasing cost of solar panels and related technologies. As the technology has improved and become more efficient, the cost of producing solar panels has decreased significantly, making solar energy more accessible and affordable for consumers and businesses alike. This has led to an increase in demand for solar panels, which in turn has fueled the growth of the solar power market.
Another important factor driving the growth of the solar power market is government support for renewable energy. Governments around the world are introducing policies and incentives to encourage the adoption of renewable energy sources, including solar power. In some cases, governments are even mandating the use of solar panels on new buildings or offering subsidies to consumers who invest in solar technology. This support has helped to create a favorable regulatory environment for the solar power market, further driving its growth.
The growth of the solar power market is not limited to developed countries. Developing nations are also increasingly turning to solar energy as a way to meet their energy needs while reducing their reliance on fossil fuels. In some cases, solar power is even more affordable than traditional forms of energy in these countries, making it a practical choice for powering homes and businesses. This has led to a significant increase in demand for solar panels in developing nations, further driving the growth of the solar power market.
One of the most exciting developments in the solar power market is the rise of energy storage technology. As solar panels generate electricity only when the sun is shining, energy storage is essential to ensure a reliable supply of power. With the development of affordable and efficient energy storage solutions, solar power has become a more viable alternative to traditional forms of energy. This has opened up new opportunities for the solar power market, including the possibility of providing backup power during times of grid outages.
The global solar power market size was accounted for US$ 197.23 billion in 2021 and is projected to reach at US$ 368.63 billion by 2030.
Ask here for sample study@ https://www.precedenceresearch.com/customization/1574
Highlights
- Based on the technology, the PV systems segment has garnered market share of 71% in 2022.
- Based on application, industrial segment has held market share of 37% in 2022.
- Asia Pacific has garnered a market share of 30% in 2022.
Growing move towards green energy is to propel the market growth
Surging need to limit the increasing global temperature is anticipated to drive the demand for energy transition. Increasing move towards low carbon emissions from fossil fuels is anticipated to propel the market demand. Additionally, the government of UK is aiming to enhance their renewable energy source. Germany is producing 65% of its total energy through renewable sources.
High investment is expected to restrain the market growth
High cost of installation of solar panels is expected to restrain the industry growth. The high initial cost and lack of infrastructure available to install solar power generation system is expected to hinder the growth of the industry. Moreover, the solar structure costs USD 500 per solar panel which is quite high further expected to decline the market demand.
Utility sector dominates the market growth
Increasing installation of renewable sources along with high operating efficiency of PV panel is expected to contribute to the market growth. Adoption of solar energy panels in residential sector is also boosting the demand in the industry. Moreover, the increasing residential segments project due to surging population and increasing demand for energy is proliferating the market share. Throughout the predicted period, the category will continue to be in the lead. To transition away from traditional energy generation, many nations are investing in solar energy for utility-scale electricity production. The product demand is anticipated to rise as a result. Utility-scale solar energy systems are more economical because larger installations can attain economies of scale. As the demand for the product rises, it is projected that the industry would expand steadily throughout all of its categories. Due to the growing industrial activity in APAC and MEA, the industrial end-use category is anticipated to see the quickest Growth between 2022 and 2030.
Asia Pacific dominated the overall market growth
In 2021, Asia Pacific had the biggest revenue share (almost 59.49%) and dominated the world market. In terms of revenue, East Asia commanded the Asia Pacific regional market in 2021. The region has experienced significant product demand as a result of the desire to lessen dependency on traditional power sources and the existence of established competitors who are consistently improving their offers. Due to rising investments in renewable energy from the countries in the region, the Middle East & Africa region is predicted to develop at a substantial CAGR from 2022 to 2030. Due to the high installation costs, solar energy adoption in the region is rather limited.
However, technological developments have lowered the cost of installation and made it affordable compared to brand-new coal and gas power plants. For the forecast period, consistent CAGRs are anticipated in Europe and North America. Several nations in the area have committed to increasing the proportion of solar energy in overall energy production, which is anticipated to raise product demand during the projected period. In the upcoming years, Central and South America are also anticipated to experience consistent growth. Countries with strong solar potential and above-average sunlight include Chile and Colombia. Throughout the projection period, demand from nations with significant solar potential is anticipated to fuel growth.
Market Share Insights
With players engaged in R&D and constant product introductions of more effective products, the business is quite competitive. The industry is extremely fragmented, with numerous businesses engaged in a single component. For instance, businesses like Jinko Solar and LONGi Solar focus nearly entirely on the manufacturing of solar panels. These businesses concentrate on creating solar panels that are more effective rather than producing other system components. Solar PV inverters are made by businesses like Fimer Group and Huawei Technologies Co., Ltd.
This has led to ongoing technological advancements and the availability of less expensive, more effective items on the market. However, the industry has changed as more businesses begin to develop different components in order to increase their market shares.
Conclusion
In conclusion, the solar power market has seen significant growth in recent years due to a combination of factors, including decreasing costs, government support, and the rise of energy storage technology. As technology continues to improve and become more efficient, it is likely that the solar power market will continue to expand, providing a cleaner and more sustainable source of energy for generations to come. As a result, investing in solar power is not only good for the environment, but also a smart business decision for those looking to take advantage of this growing market.
Market Segmentation

By Application: (Residential, Commercial, Industrial)

By Technology: (Photovoltaic Systems [Moni-Si, Thin Film, Multi-Si, Others], Concentrated Solar Power Systems [Parabolic trough, Solar power tower, Fresnel reflectors, Dish Stirling])

By End Use: (Electricity Generation, Lighting, Heating, Charging)

By Solar Module: (Monocrystalline, Polycrystalline, Cadmium Telluride, Amorphous Silicon Cells, Others)

Ask here for more details@ Call: USA - +1 9197 992 333 | IND - +91 93077 85324
Email: sales@precedenceresearch.com
Featured Product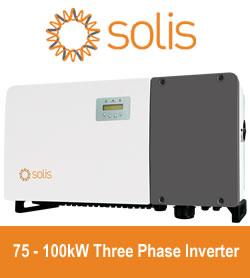 Solis75kW - 100kW series high-power string inverters are widely used in industrial and commercial rooftops. Solis's new three-phase string inverter is the first choice for industrial and commercial photovoltaics. 75-100kW three phase series string inverter have Maximum 28 strings input, support "Y" type connection in DC side. Maximum string input current 13A, support bifacial modules access.Supports anti-PID function to improve system efficiency.