-Inaugural report developed in-line with Global Reporting Initiative standards and creates a framework for achievement including strategic alignment with governing standards -Energy Vault details its sustainability strategy, incorporating awareness and alignment with the United Nations Sustainable Development Goals
Energy Vault Holdings, Inc. (NYSE: NRGV) ("Energy Vault" or the "Company"), a leader in sustainable grid-scale energy storage solutions, announced today the publication of its inaugural Sustainability Report.

The report details Energy Vault's comprehensive portfolio of sustainable energy storage technologies and solutions for short, long and ultra-long duration, the Company's corporate sustainability strategy, and its approach to Environmental, Social, and Governance (ESG) oversight, accountability, implementation and reporting.
Energy Vault's sustainability strategy incorporates awareness and alignment with the globally recognized United Nations Sustainable Development Goals in the Company's pursuit to advance clean and affordable energy for all. The Sustainability Report follows the Global Reporting Initiative standards and created a framework for achievement including strategic alignment with governing standards.
"We are proud to issue our inaugural Sustainability Report as we closed our first year as a public company, which builds upon a successful year highlighted by multiple cornerstone customer wins and our first deployment starts across all of our gravity, battery and green hydrogen energy storage solutions," said Robert Piconi, Chairman and Chief Executive Officer, Energy Vault. "We founded Energy Vault with a mission of decarbonization of our planet to accelerate the transition to a sustainably energized world. My co-founders and I set out to create a purpose-driven energy storage company with sustainability embedded into the core of our business solutions, product design and supply chain. Our sustainability directive is to enable a renewable world through the implementation of sustainable business practices geared towards delivering a net-positive impact on the environment in everything we do. With our sustainable business design focus, our customer-centric approach to energy storage, and the support of our shareholders, we are confident that we can continue to push the boundaries of what is possible in the energy storage industry and help build a more sustainable future for generations to come."
In 2022, Energy Vault became certified through the International Organization for Standardization for its quality management systems (9001) and its environmental management systems (14001). In 2023, the Company is focused on alignment with the Task Force on Climate-related Financial Disclosures (TCFD). In 2024, Energy Vault is expecting to align with the Science Based Targets initiative (SBTi).
Energy Vault invites all of its stakeholders across the world to read its inaugural Sustainability Report at the following link: Sustainability Report 2022
Please view a video about Energy Vault's commitment to sustainability at the following link: https://vimeo.com/824413511
About Energy Vault
Energy Vault® develops and deploys utility-scale energy storage solutions designed to transform the world's approach to sustainable energy storage. The Company's comprehensive offerings include proprietary gravity-based storage, battery storage, and green hydrogen energy storage technologies. Each storage solution is supported by the Company's hardware technology-agnostic energy management system software and integration platform. Unique to the industry, Energy Vault's innovative technology portfolio delivers customized short and long duration energy storage solutions to help utilities, independent power producers, and large industrial energy users significantly reduce levelized energy costs while maintaining power reliability. Utilizing eco-friendly materials with the ability to integrate waste materials for beneficial reuse, Energy Vault's EVx™ gravity-based energy storage technology is facilitating the shift to a circular economy while accelerating the global clean energy transition for its customers. Please visit www.energyvault.com for more information.
Featured Product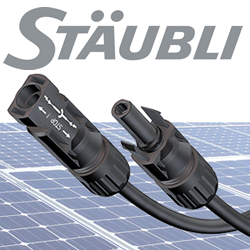 ​Stäubli Electrical Connectors are used on more than 300 GW, over 50% of the PV capacity worldwide. The MC4 family of UL and TUV listed products include connectors, in-line fuses, branch connectors, cable assembly and more.