This significant capital commitment will support the company's continued growth and ongoing transformation into an independent power producer
Burlington, VT - Encore Renewable Energy (Encore), a leader in community and utility-scale renewable energy origination, development and construction, announced today that it has secured a significant equity investment from SUSI Partners (SUSI), a global sustainable infrastructure investment firm based in Switzerland, through its flagship Energy Transition Fund (SETF). The investment will complete the company's shift from project developer and EPC to independent power producer (IPP) by scaling the business and further strengthening its asset base.

As a certified B Corporation, Encore puts a strong focus on sustainable growth, environmental compatibility, and community engagement, which matches SUSI's sustainability focus. In particular, the company has proven expertise in the redevelopment of brownfield sites, minimizing environmental impacts of projects, and revitalizing communities in the process. With the support of SUSI, Encore aims to develop over 500 MW of community-scale solar and energy storage projects, in addition to a portfolio of utility-scale systems, over the next five years.
"This investment marks a critical step in our multi-year strategic transition into an IPP which will enable us to accelerate the deployment of solar and energy storage projects, strengthen the partnership between ourselves and our customers and continue to grow our company," said Blake Sturcke, co-CEO of Encore Renewable Energy. "We believe SUSI Partners is uniquely qualified to be our partner moving forward, given their deep expertise in our industry and shared mission of creating a more sustainable energy future."
Richard Braakenburg, Head of Equity Investments at SUSI Partners, said: "We have been investing in energy transition infrastructure for more than a decade and the momentum for clean energy we currently witness in the U.S. makes us very excited about Encore's future. With this long-term partnership, we want to foster their proven ability to deliver clean energy projects in a way that protects the environment and ensures backing from the local communities."
The transaction underscores Encore's track record to date and is a testament to the flourishing U.S. clean energy sector, buoyed by the recent passage of the historic Inflation Reduction Act of 2022. For SUSI, this transaction follows previous U.S. investments in battery storage and electric vehicle charging infrastructure and further strengthens the firm's foothold in the world's largest economy.
Chris Clement, Encore's Chief Financial Officer & Chief Investment Officer, spearheaded this transaction, upon which Javelin Capital acted as Encore's financial advisor.
###
ABOUT ENCORE
Encore Renewable Energy is a Burlington, Vermont-based leader in community and utility-scale renewable energy development with a proven track record in solar development from concept to completion. Founded in 2007 as Encore Redevelopment, their team specializes in the design, development, financing, permitting, and construction of solar and energy storage projects on landfills, brownfields and carports. As a values-led company, Encore is committed to revitalizing communities and creating a cleaner, brighter future for all.
ABOUT SUSI PARTNERS
Founded in 2009, SUSI Partners is a Swiss fund manager specialized in sustainable energy infrastructure investments with EUR 1.9bn in capital commitments from institutional investors. The firm's investment strategy focuses on private equity and credit opportunities across the energy transition spectrum, including clean energy generation, energy efficiency measures, and solutions enabling clean energy use. With a successful track record of more than 140 transactions in over 20 countries to date, SUSI Partners seeks to achieve attractive risk-adjusted returns for its clients and their beneficiaries while contributing meaningfully to achieving global climate neutrality.
Featured Product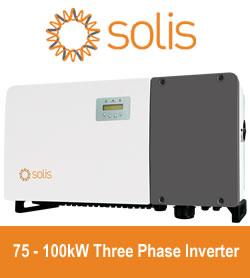 Solis75kW - 100kW series high-power string inverters are widely used in industrial and commercial rooftops. Solis's new three-phase string inverter is the first choice for industrial and commercial photovoltaics. 75-100kW three phase series string inverter have Maximum 28 strings input, support "Y" type connection in DC side. Maximum string input current 13A, support bifacial modules access.Supports anti-PID function to improve system efficiency.