Requiring just 10 percent of the roof space needed by solar panels, the stationary, silent and durable Aeromine unit generates around-the-clock energy in any weather.
Wind Technology for Rooftop Renewable Energy
Q&A with David Asarnow, CEO | Aeromine
What is Aeromine?
Aeromine is a new, bladeless wind energy solution designed to integrate with building electrical systems and existing solar energy systems to help commercial property owners meet increasing demands for on-site renewable energy. Aeromine Technologies' innovative, scalable, motionless system easily installs on the edge of a building generating up to 50 percent more energy at the same cost as rooftop solar PV. Aeromine systems consist of 20-40 units installed on the edge of a building facing the predominant wind direction. Designed to work seamlessly with a building's existing electrical system, the combination of Aeromine's wind solution with rooftop solar can generate up to 100 percent of a building's onsite energy needs, while minimizing the need for energy storage.
How does Aeromine's system differ from previous wind energy products?
Aeromine is a highly innovative solution and not really comparable to existing wind turbines. Historically, rooftop and small wind systems either don't generate meaningful power or are not scalable due to environmental and visual/sound impact concerns, making them untenable. Aeromine is unique in that it generates meaningful on-site energy without the project concerns of legacy small wind systems.
Unlike noisy and visually intrusive wind turbines that rely on rotating rotor blades and are prone to maintenance issues, Aeromine is motionless. The patented design is based on known principles of aerodynamics and high-performance internal rotor systems, working similarly to the airfoils on a race car by capturing and amplifying a building's airflow to create downward pressure. Aeromine generates power by leveraging the inherent aerodynamics of a building and the pressure created by the patented airfoil system drives our internal propeller, generating energy.
Is wind energy better than solar energy, and how?
Wind energy is more evenly distributed than solar around the clock and generates energy even in snow and rain. It is widely considered the highest performing renewable energy source. Requiring just 10 percent of the roof space needed by solar panels, the stationary, silent and durable Aeromine unit generates around-the-clock energy in any weather. The units are sleek, motionless and require 10 times less rooftop space than equivalent options. Aeromine generates much more energy per square foot than solar. With the same installed system capacity of say 100kW, a sun rich location will produce about 175,000 kWh a year. A 100kW Aeromine system in a windy region will produce at least 268,000 kWh.
Aeromine is designed to integrate seamlessly with solar, and the combination of both can provide 100% of a building's onsite energy needs, mitigating the needs for expensive storage solutions.
How long have you been offering this solution?
The technology was invented by Carsten Westaargard and has been in development in partnership with Texas Tech University and Sandia National Labs. It has been through rigorous and extensive testing and simulations. Commercial efforts launched in 2021 with the first project installed with BASF in Michigan in early 2022, and a number of additional projects currently in process. Every element of the Aeromine system is scalable to high volume and we are selling into an existing market with an existing supply chain. With growing demand for sustainability solutions and high energy prices, this could grow very fast. Initial volume production is scheduled for early 2023.
What are some of the hurdles the small wind industry faces in growing the industry?
Traditionally, wind has been constrained by environmental and visual impacts associated with projects. Often small wind turbines on buildings also result in noise and vibration issues. One of the elements that is quite novel about Aeromine is the lack of any external moving parts or noise, which removes friction typically associated with wind projects and makes Aeromine a suitable solution for the built environment. Additionally, Aeromine fulfills the promise of bringing the performance of wind energy to commercial and residential property owners, which yields efficient energy production relative to the amount of rooftop space required.
How do you overcome these hurdles?
Aeromine's design leverages the aerodynamics of a building to amplify wind speed. You can almost think of the building as the tower that traditional turbines require. Assuming a building height of approximately 50 feet tall, this would almost double the wind speed. The second piece that overcomes traditional hurdles is the Aerodynamic unit foils that create negative pressure that pulls the wind coming up the face of the building through our internal propeller and generator. In this way we are able to create AC power that can be connected to the building electrical system or fed into a microgrid.
Where do you see small wind 5 years from now and how does Aeromine Power fit in?
There is a confluence of macroeconomic and socio-economic forces, including climate disasters, Russia's invasion of Ukraine, the Inflation Reduction Act, Corporate ESG mandates, that are accelerating the green energy transition. Onsite generation is a critical piece of this mix. Aeromine, when deployed either on its own or in combination with solar, can increase on-site generation by 100% to 300%. There are other solutions out there as well that we hope can contribute to the transition.
About Aeromine Technologies
Aeromine Technologies has developed a breakthrough scalable renewable energy solution that harnesses the power of wind in an efficient system that is up to 50 percent more productive than other renewable energy alternatives. Aeromine units install on the edge of the building roof, they are motionless, vibration- and noise- less. System installations are typically 50 kW or larger. The solution is robust, long-lasting, and requires much less rooftop space than other options to generate distributed energy. Ideal for large, flat rooftop buildings – including warehouses, big box retailers, data centers, office, and apartment buildings - Aeromine leverages existing financial structures, installation resources and incentives established by the solar industry.
The content & opinions in this article are the author's and do not necessarily represent the views of AltEnergyMag
---
Comments (0)
This post does not have any comments. Be the first to leave a comment below.
---
Post A Comment
You must be logged in before you can post a comment. Login now.
Featured Product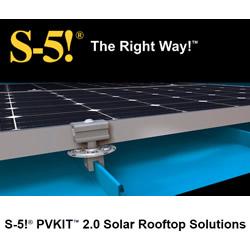 The concept of combining PV arrays with standing seam metal roofing is growing-for good reasons. Metal roofs have a life expectancy of more than 40 years. Shouldn't the mounting system last as long? With S-5! zero-penetration attachment technology and PVKIT 2.0, the solarized metal roof is the most sustainable system available -and without compromising roof warranties! PVKIT 2.0 is the also the best solution for attaching PV modules directly to any exposed fastener metal roof.