CATL also developed the world's first solar-plus-storage solution with zero auxiliary power supply. It can achieve real-time linkage and interaction of PV and BESS
Increasing Life and Cylce Life of Energy Storage Systems
Q&A with | Contemporary Amperex Technology Co., Limited (CATL)
Please tell us about your company CATL?
Contemporary Amperex Technology Co., Limited (CATL) is a global leader in new energy technology innovation, committed to providing premier solutions and services for new energy applications worldwide. In June 2018, the company went public on the Shenzhen Stock Exchange with stock code 300750.
In the first half of 2023, the company's revenue totaled 189.25 billion yuan (about 26.2 billion U.S. dollars), up 67.5% YoY, and its net profit reached 20.72 billion yuan (about 2.87 billion U.S. dollars), up 153.6% YoY. According to SNE Research, CATL's EV battery consumption volume has ranked first in the world for six consecutive years, holding 37% of global EV battery market share in 2022. From January to May 2023, CATL held 36.3% market share of the global EV battery consumption volume, up 1.7% YoY. CATL has also ranked first in the market share of global energy storage battery shipment for two straight years with a global market share of 43.4% in 2022. According to SMM, CATL ranked first globally in terms of production volume of energy storage battery cells in H1 2023.
To achieve the goal of realizing fossil fuel replacement in stationary and mobile energy systems with highly efficient electrical power systems that are generated through advanced batteries and renewable energy and promote the integrated innovation of market applications with electrification and intelligentization, CATL maintains continuous innovation in four dimensions including material and electrochemistry system, structure system, green extreme manufacturing and business models.
What are your thoughts on energy storage and the developments of this industry?
With the advent of the era of affordable clean energy power generation, energy storage is playing an increasingly important role. To achieve the global carbon neutrality, new energy power generation represented by wind and PV power generation will grow rapidly. However, the instability and intermittent nature of wind and solar power will have an impact on the safe and stable operation as well as economic efficiency of the power system. Energy storage facility is an important type of infrastructure that can enhance the flexibility of the power system, improve the utilization efficiency of wind and solar resources, and strengthen the safety and reliability of the power supply system.
We will soon enter the era of TWh. BNEF (Bloomberg New Energy Finance) predicts that energy storage installations around the world are projected to reach a cumulative 411 gigawatts (or 1,194 gigawatt-hours) by the end of 2030.
The most important feature of energy storage product is that the calendar life and cycle life shall be more than 20 years. And for large energy storage system, usually 1Gwh energy storage power plant needs more than 1.5 million cells, so its product consistency is required to be more than 10,000 times (4 orders of magnitude) higher than that of EV batteries.
Products are hard to tell if it's with high quality or not, at the initial stage of delivery. Poor quality products often cause huge safety and financial losses to the owner. We are calling for energy storage plants to learn from the safety philosophy of nuclear power plants from the whole process of design, selection, construction, operation and maintenance, and recycling. Taking reference to nuclear power level safety, a safety grading assessment system for battery storage systems based on probability of failure shall be established and incorporated into the bidding conditions of major projects to guide battery energy storage towards high quality development with "nuclear power level safety" as the benchmark.
Tell us about CATL's energy storage solutions?
As a global leader of new energy innovative technologies, CATL has been dedicated to clean energy transition since its establishment in 2011. CATL's all-scenario energy storage solutions cover application scenarios of power generation, power transmission and distribution, and power consumption.
Our EnerOne, modular outdoor liquid cooling LFP BESS, won the ees AWARD in 2022, and the temperature difference among cells can be controlled within 3 degrees Celsius. The energy density of CATL's EnerOne Plus, the upgraded version of EnerOne, is 10% higher than that of the previous generation and the cycle life can be up to 10,000 cycles. It can operate stably for 20 years and the round trip efficiency (RTE) is more than 96% under standard test conditions. It is compatible with 600V~1,500V systems, and can be equipped with deflagration venting and dry pipe to achieve four levels of safety protection including fire detection, fire alarm and pressure relief, aerosol fire suppression and water fire suppression, improving the safety and reliability of products.
EnerC Plus, the world's first TEU containerized liquid cooling energy storage system, which can be adapted to 306Ah battery cells with around 10% higher energy, achieving 20 years of safe and reliable operation. Meanwhile, the back to back configuration allows it to save system layout area by over 28%.
CATL also developed the world's first solar-plus-storage solution with zero auxiliary power supply. It can achieve real-time linkage and interaction of PV and BESS, thus realizing millisecond-level power control response and increasing the charging-discharging efficiency by 10%. The innovative solution is equipped with the industry's first high temperature and long service life cells, with which the system cycle life can reach 15,000 cycles and with zero auxiliary power consumption, allowing the system to operate safely and economically throughout its life cycle.
How does CATL's energy storage system differ from other solutions currently on the market? How competitive are your products?
Thanks to our extensive forward-looking layout in the international energy storage market and our technical advantages and brand influence, we entered the international market in 2018 and have supported a number of utility scale of energy storage projects in 2021, with a single project scale of nearly GWh; in 2022, we newly launched EnerC and other products with long service life, high level safety and of integration for all climate scenarios.
Long service life: Energy storage battery for power generation, transmission, distribution and consumption carry a high demand for long service life and high reliability. We successfully delivered the Jinjiang 100 MWh Energy Storage Power Station Project, increased the cycle life of a single battery to 12,000 cycles, which has become a global benchmark. Our R&D goal is to increase the cycle life to 18,000, and achieve or exceed the pumped storage in terms of the cost per kilowatt hour and the energy storage capacity.
High level of safety: CATL takes a comprehensive approach to safety to ensure multiple levels of protection from cell, module, rack to system. We select and design raw materials and applies stringent controls in manufacturing processes, as well as comprehensive testing and verification to ensure the quality of batteries. For example, to ensure products' safety from the cell level, CATL's liquid-cooling energy storage solutions adopts LFP chemistry with high thermal stability. CATL has achieved DPPB-level cell defect rate, which is the top in the industry, and will further build the ESS products at nuclear-power-level safety. We are the first company in China to receive UL 9540A test report at cell, module, unit and installation level by UL Solutions. Additionally, 24-hour monitoring and big data-based early warning systems ensure safe operations and reliability of its products in real-life scenarios.
High level of integration: Equipped with Cell to Pack (CTP) technology, CATL's liquid cooling energy storage solutions integrate batteries, fire protection system, liquid-cooling units, control units, UPS, distribution system and other subsystems into one, leading the ESS industry with advanced technologies.
CATL has ranked first in the market share of global energy storage battery shipment for two straight years with a global market share of 43.4% in 2022. According to SMM, CATL ranked first globally in terms of production volume of energy storage battery cells in H1 2023.
Tell us more about the R&D behind your products?
Innovation is the key driver for CATL's growth. CATL has set up R&D centers in Ningde, Liyang, Shanghai, Xiamen and Munich, with over 17,998 staff members engaged in R&D so far. Its 21C Lab has developed into a global leader in the R&D of energy storage and conversion frontier technologies.
In the first half of 2023, CATL invested about 9.85 billion yuan (about 1.36 billion U.S. dollars) in R&D, up 70.8% YoY. CATL's issued and pending patents have reached 22,039 worldwide, and it has contributed to the drafting or amending of over 110 industry standards at home and abroad.
Our industry-leading R&D capability has enabled us to keep a leading position in energy storage technologies. By adopting a wealth of innovative technologies, we have developed the trailblazing liquid-cooling energy storage solutions that feature long service life and high level of safety.
In terms of long service life, our innovation introduces an anode technology with a low lithium consumption that improves the stability of the anode material surface and bulk phase to reduce lithium depletion. We have also improved cell storage and cycling performance by developing our self-repairing electrolyte. Moreover, we have optimized the cathode using doping and coating techniques to reduce side reactions in high-voltage scenarios. In 2020, we deployed the 12,000-cycle ultra-long-life batteries at the Jinjiang 100 MWh Energy Storage Power Station. This facility has maintained safe operations for over 1,300 days.
Ensuring the safety of energy storage batteries poses far greater challenges than those for EV batteries, as it requires a much higher level of consistency in manufacturing as well as innovation in cell and system design. By deploying advanced technologies including 5G, flexible automation and IoT, CATL has achieved a cell defect rate of DPPB, or parts per billion, which is the top in the industry. Meantime, it carries out real-time monitoring at over 6,800 quality control points.
Our Ningde plant and Yibin plant were recognized by the World Economic Forum as Lighthouse factories, making them the only two Lighthouse factories in the battery industry globally. Yibin plant was also certified as the world's first zero-carbon battery plant. In the future, CATL will adopt its experience in Lighthouse factory and zero-carbon factory in more CATL plants globally.
Can you share some application scenarios of CATL's energy storage solutions?
Committed to providing premier energy storage solutions to the world, CATL has developed safe, efficient and economical electrochemical energy storage solutions that can be widely applied in the field of power generation, power transmission and distribution, and power consumption, facilitating the energy transition, elevating the safety level of the power system, and reducing the cost of energy consumption.
In 2021, we participated in Europe's largest grid-side battery energy storage power station - Minety Battery Energy Storage System in the UK. In the same year, the 220MWh liquid-cooling energy storage project in Texas is connected to the grid, marking the world' s first large-scale application of its kind.
In 2022, CATL participated in the Gemini project in the US, which features a 690MW solar array and a 380MW battery system capable of storing more than 1,400 MWh of solar power.
In 2023, CATL participated in the Desert Peak project in the US, the world's largest battery storage facility with energy storage capacity of 1.8 GWh.
In Australia, CATL has joined hands with partners on multiple battery energy storage projects, including the first major grid-connected battery energy storage system in Western Australia, the 250MWh battery energy storage project on Torrens Island in South Australia, and Australia's currently largest privately funded grid-connected battery energy storage project, which is located in Victoria. We have provided energy storage systems for the large-scale rooftop PV system of a hospital in New South Wales, saving costs for the hospital by efficient storage of solar energy, and contributing to sustainable development.
CATL has quickly supported a large number of energy storage projects, leading a single project scale of more than 1 GWh, forming a good demonstration effect and customer reputation; to date, we have supplied over 100 energy storage projects worldwide, covering 45 countries and regions.
CATL's energy storage solutions have also been successfully applied in large-scale industrial, commercial and residential areas, and been expanded to emerging scenarios such as base stations, UPS backup power, off-grid and island/isolate systems, intelligent BESS charging stations, among others.

How are you working with customers to create battery recycling to close the loop of battery production?
In the process of helping the transformation of energy and transportation, it is very important for the sustainable development of the industry to establish a closed loop of Production to Use to Cascade utilization to Recycling to Resource Regeneration as soon as possible.
Our subsidiary Brunp Recycling, which we acquired in 2015, has been ranked first in the world in terms of lithium battery recycling for years, and the recycling of iron lithium batteries has also achieved the world's first large-scale industrialization.
Together with Brunp, we have developed a closed-loop of battery life cycle. And with today's technology such as the "reverse product positioning design" technology, more than 99.3% of the precious metal, such as cobalt, nickel and manganese, can be recycled efficiently as used as cathode materials for battery manufacturing, and the recovery rate of lithium can reach 90%.
In 2022, we recycled 101,200 tons of physical battery waste and used it to manufacture 13,600 tons of lithium carbonate.
CATL is also in talk with local partners in Europe for strategic cooperation in areas of cathode active materials and battery recycling, so as to develop a sustainable battery value chain, thus contributing to achieving global carbon neutrality goals.
The content & opinions in this article are the author's and do not necessarily represent the views of AltEnergyMag
---
Comments (0)
This post does not have any comments. Be the first to leave a comment below.
---
Post A Comment
You must be logged in before you can post a comment. Login now.
Featured Product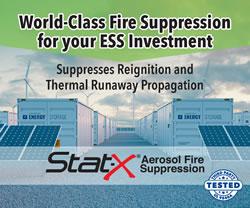 Stat-X® condensed aerosol fire suppression is a solution for energy storage systems (ESS) and battery energy storage systems (BESS) applications. Our Stat-X condensed aerosol fire extinguishing product was tested for efficacy in suppressing li-ion battery fires. It was found that the product successfully extinguished single and double cell battery fires. This testing was conducted in parallel with a large battery fire testing program on behalf of a large energy storage company.