More and more homeowners are requesting battery backup solutions as part of their solar power installations. With increased adoption of solar power, concerns about fire hazards are likely to grow. Are these concerns justified?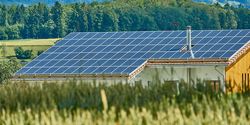 Many homes that use deep-cycle batteries as part of their renewable energy or off-grid power system's energy storage, are often strained to maximum capacity levels. The result is sets of batteries that don't seem to last as long as they used to.
Records 1 to 2 of 2
Featured Product
What if you could maximize the Ground Coverage Ratio (GCR) on your next project and not have to worry about the complicated variables that come with a tracker system? With a low tilt and clearance design, Dahlia® has the highest GCR of any fixed-tilt system in the marketplace. The system is available in three tilt options (7.5, 10 and 12.5 degrees) and designed to accommodate any sized PV module. The lightweight system is engineered with fewer components, several of which are shipped to job sites pre-assembled. This design feature reduces freight costs and rapidly trims the amount of on-site installation time required to complete construction. Maximizing PV coverage on a site can lead to an increase of production, which creates greater financial return for project owners. Over 100 MW of Dahlia® projects have been deployed across the United States, in regions of variable snow and wind loads. How much can Dahlia® cover and save you on your next project?