The most common challenges that developers face include having access to competitive and creative financing for their customers, and securing the necessary capital to effectively develop and build their projects.
Securing Financing and Capital for Solar + Storage Projects
Q&A with Danielle Fidel, Sr. Director, Developer Network | DSD Renewables
Tell us about yourself and DSD Renewables - what is the company striving to achieve/what is the company's mission?
My name is Danielle Fidel and I am the Senior Director of our Developer Network here at DSD Renewables. I've been in the commercial solar space serving both commercial customers and regional solar developers and installers for over 15 years, with a heavy focus on PPAs and third-party financing.
I came to DSD to launch the Developer Network because I saw a major void in the industry that needed to be addressed. I wanted to create a platform built by developers, for developers, that gives companies across the US a competitive, standardized and duplicable financing experience to help them grow their businesses, which is exactly what we have done and continue to build on.
DSD strives to make solar, storage, and EVCI solutions more accessible to commercial, industrial, non-profit and municipal customers – both directly and through partnerships like our Developer Network. Our company's mission is to accelerate the deployment of clean energy solutions on already existing infrastructure by owning and operating these assets for customers. This allows customers to focus on reaching sustainability goals, combat climate change, and cut down on their energy demand and costs, without having to worry about the long-term ownership and maintenance of the system. Our organization has a very customer-centric approach that focuses on delivering projects that provide the most value to our customers and best meet their unique renewable energy needs.
This holistic approach to increasing renewable energy resources is what ultimately drives our success and allows for the most benefit to customers, communities, and industry players.
What trends are you seeing currently in the commercial solar + storage market right now?
With a lot of exciting things happening in our industry right now, it is hard to narrow them down. A lot of the current trends are a result of some major policy changes happening in the US market.
For one, we have seen an increased interest in solar systems paired with batteries due to legislative changes, like NEM 3.0 in California, and new storage incentives, like those passed under the Inflation Reduction Act or announced as part of the Energy Storage Roadmap in New York. Customers are starting to understand more and more about how peak shaving and demand reduction can help reduce their operating expenses and be part of a full energy solution for them.
Customers are also asking more about Electric Vehicle charging, which marries quite well with solar-plus-storage solutions, and can create alternative revenue streams for customers. It is an exciting intersection of sustainability driven industries that will explode in the next few years.
We have also seen an increased interest in power purchase agreements (PPA) and lease financing in the commercial space. A lot of organizations have sustainability goals or mandates they are trying to meet and oftentimes they do not have the capital to deploy solar, or the desire to operate and maintain a solar array. PPAs give those organizations an easy way to go solar at no cost to them and with the peace of mind that they have an organization, like DSD, that stands behind the long-term operations and maintenance of their array.

What are the most common challenges developers face when it comes to distributed solar or solar + storage projects for commercial energy users?
The most common challenges that developers face include having access to competitive and creative financing for their customers, and securing the necessary capital to effectively develop and build their projects.
Breaking into new and emerging markets is also tough for many developers that are looking to branch out. Solar policy differs from state to state and utility to utility. Building a behind-the-meter rooftop system is very different from building a solar carport or ground mounted array in a front-of-the-meter market, and then there are markets like community solar and battery storage that are even more mysterious.

How are you overcoming these challenges, and how are you helping commercial customers and/or others in the industry tackle these obstacles?
We launched DSD Connect, our Developer Network platform, to address the challenge of accessing financing. Through that platform we are able to provide instantaneous pricing that developers can present to customers the same day, and provide the support that they need to close their deals quickly. We also help with PPA and lease negotiations so they can go back to doing what they do best – selling and installing solar.
On the project finance front, we contract with these partners very early on in the project life cycle to provide development and construction capital to support the project from beginning to end. This helps partners with cashflow needs to ensure projects stay on track. In the end, we've built a project together that will serve their customer for years to come.
Our Developer Network partners also have access to subject matter experts in every facet of the industry that can help developers break down some of these barriers to entry. Be it moving into a new state, creating a new offering, or getting into battery storage for the first time, DSD has someone in house that can help. We've taken both the funding we have raised and the knowledge we have gained, and structured our Developer Network to be able to put that funding and brain power into the hands of developers across the US.
What is DSD Connect, and how did it come about? Why is the platform so unique?
DSD Connect is the first-of-its-kind platform that gives authorized developer/EPCs in our Developer Network access to the necessary tools to deploy more projects. The platform was created to help regional partners overcome some of the most common hurdles to deploying projects today, providing them with a one-stop-shop solution to deploy solar projects and scale their business. Partners that use the platform have access to sales collateral for their projects, instantaneous PPA pricing, and much more. We are continually building out the platform as well so while most of our partners come to DSD Connect for front-end sales support for projects they have originated, the near-term goal is to be able to also offer partners the ability to secure contracts and be awarded projects that are available in our system, creating a two-way street for project flow and offering new business opportunities and growth potential for our partners.
DSD Connect isn't a broker platform – we own all of the projects that get financed and built through our Developer Network long-term. This gives our partners a level of certainty that is often a miss in the industry and allows us a unique opportunity to scale our business into new regions and increase solar deployment, while also giving our partners the opportunity to do the same. We're successfully enabling the development of more commercial solar projects across the country, and empowering industry players in a way that no other company is currently doing. In fact, no other software platform exists today that offers this type of solution for the solar industry.

How does the platform help overcome some of the industry's biggest challenges? What does it allow partners to achieve?
As mentioned, DSD Connect allows regional partners and EPCs to overcome one of the biggest hurdles to project development, which is accessing capital. Through our platform, partners can plug in the specifications of their project and effectively price it in the system. We're then able to provide them with the proper funding to carry out their project and own the asset long-term after it's built.
This also solves another common problem for developers, which is offloading their projects to a qualified operator or asset owner to manage after it's been developed. Regional developers often don't have the scale and/or capital to own projects long-term, so having their project financed upfront, with DSD in the transaction well before projects are fully developed, is a win-win situation for both us and our partners.
To date, our platform has priced over 1.2 GW of C&I solar projects for 58 authorized developer/EPCs in our Developer Network.
Why do you see energy storage as such a huge opportunity for commercial properties going forward?
Bringing this back to the trends we highlighted earlier – these trends are not going anywhere, and policy changes and utility rate structures continue to make battery storage more and more attractive to customers and solar developers. Demand charges are increasing and becoming a larger percentage of many commercial electric bills; net metering rules are changing, pushing customers to find ways to keep more solar on site instead of sending it back to the grid; and utilities are realizing the importance of storage for grid stability.
What used to be a rarity is becoming commonplace and DSD is the right partner to help organizations and developer partners discover what is possible when it comes to solar-plus-storage. We can model demand savings and show customers the impact of adding a battery to their solar project. Energy storage isn't ready for primetime in all markets in the US just yet, but that too is changing and expanding, and we can help tell partners what to look for. Storage is a huge opportunity not only for commercial customers, but for solar developers as well, and together we can demystify battery storage and accelerate the deployment of solar-plus-storage in the commercial space.
About Danielle Fidel
Danielle Fidel comes to renewables from her desire to make long lasting positive change on our planet. With a background in public health and human physiology she is intimately familiar with how what we do impacts our planet and in turn, human health. She has been in the solar industry for 15 years and counting.
In her current role, as Senior Director for DSD's Developer Network, Danielle manages the developer network program including building out refined processes and enhanced offerings to help developers across the country grow their businesses. She also manages the Account Executive team whose goal is to provide the best customer service and support to developers and their customers so they know that they can count on DSD to not only be there to fund projects, but also to own, operate and maintain systems for optimal performance for the long run.
The content & opinions in this article are the author's and do not necessarily represent the views of AltEnergyMag
---
Comments (0)
This post does not have any comments. Be the first to leave a comment below.
---
Post A Comment
You must be logged in before you can post a comment. Login now.
Featured Product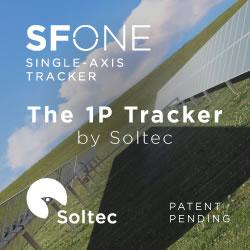 SFOne is the 1P single-axis tracker by Soltec. This tracker combines the mechanical simplicity with the extraordinary expertise of Soltec for more than 18 years. Specially designed for larger 72 an 78 cell modules, this tracker is self-powered thanks to its dedicated module, which results into a lower cost-operational power supply. The SFOne has a 5% less piles than standard competitor, what reduces a 75% the labor time.