Moment Energy, a Canadian pioneer in commercial battery energy storage systems, is thrilled to announce its recent partnership with Saskatchewan Renewable Energy Solutions (SRES).
COQUITLAM, BC - July 6th, 2023 - Moment Energy, a Canadian pioneer in commercial battery energy storage systems (BESS), is thrilled to announce its recent partnership with Saskatchewan Renewable Energy Solutions (SRES). The collaboration is set to bring tremendous value to the energy industry in Saskatchewan, integrating the region's clean energy initiatives with cutting-edge battery energy storage systems.

‍
Under the terms of the agreement, SRES will leverage its industry expertise to identify projects that can benefit from Moment Energy's advanced battery energy storage systems. By showcasing these technologies, both entities are driving their shared vision for a sustainable and energy-efficient future.
‍
This collaboration is pivotal for both companies and the Saskatchewan community at large, as the partnership is poised to deliver cost-effective and environmentally-friendly energy solutions.
‍
"Saskatchewan Renewable Energy Solutions brings invaluable industry insight and a suite of services that fit perfectly with our technology," said Gurmesh Sidhu, co-founder and CPO of Moment Energy. "Our joint efforts will undoubtedly provide significant benefits for businesses, and communities across Saskatchewan."
‍
"In our journey towards electrification for net-zero emissions in Saskatchewan's vehicle fleets and buildings, leveraging second-life EV batteries as energy storage solutions presents enormous potential for reducing fossil-fuel reliance and alleviating pressure on our electrical grid," said Dimitri Kourles, Founder and CEO of SRES. "This strategy paves the way for a resilient energy infrastructure in the province and will defer costly upgrades induced by the transition to an electrified economy. Our strategic alliance with Moment Energy aligns perfectly with our triple-bottom-line goals (people, economy, planet). We aim to integrate these aspects into our operations and contribute to our province through the development of a circular economy, using the increasing number of retired EV batteries as a sustainable energy storage solution for the future."
‍
This partnership showcases Moment Energy's unwavering commitment to offering global access to clean, affordable, and reliable energy storage. The company takes pride in being a technological leader and in its capacity to innovate.
About Moment Energy
Moment Energy is a BC cleantech company creating clean, affordable, and reliable battery energy storage systems by repurposing retired electric vehicle batteries. Their battery energy storage systems help utilities, microgrids and commercial customers improve grid reliability and replace fossil fuel consumption with renewable energy. The solution also significantly reduces utility demand costs for on-grid commercial customers by using energy storage for peak shaving.
‍
About Saskatchewan Renewable Energy Solutions
Saskatchewan Renewable Energy Solutions is a Social Enterprise created to invest into the future of the Province and Canada, by helping achieve the collective goal of Net-Zero carbon emissions by the year 2050. They connect Canadian-Made renewable energy technology and coordinate projects that reduce greenhouse gas emissions & energy costs, to support various types of partners future-proof in Saskatchewan & the Prairies. Their vision is to create a sustainable future for Saskatchewan, Canada, and the Nation's generations to follow by immersing a circular economy, and all three aspects of the Triple-Bottom-Line.
Featured Product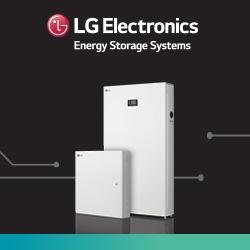 Meet LG Electronics Home 8 Energy Storage System (ESS), a whole home battery backup solution built with installers and their homeowner customers in mind. The ready-to-deploy Home 8 features just one SKU and a modular assembly for fast installation. It can be AC-coupled or solar-powered and is engineered with a grid-connected inverter, four battery modules, and a Smart Energy Box featuring a 7'' LCD touchscreen with commissioning wizard for easy setup. Each Home 8 unit can store up to 14.4 kWh of usable power, helping homeowners gain pure independence from the grid. Plus, installers can connect up to four units, bringing customers up to 57.6 kWh of total backup power-all easily managed and monitored through intuitive mobile apps.