Today EnergyBin announced the release of their PV Hardware Trade Analysis H1 2023 report. The report provides a sample of the market intelligence available via PV hardware trade on the EnergyBin exchange platform, including product categories for resale, requests to buy products, major brands for buyers and sellers, and PV module availability & pricing.
As a B2B wholesale solar equipment exchange comprised of nearly 1,000 members (up 65 percent since January 2022), EnergyBin facilitates the connection of solar companies looking to buy and sell PV hardware. Although transactions do not take place on the EnergyBin platform, PV hardware trade increased by 176 percent over H1 2022.

"The findings in this report support the business case for a robust and sustainable secondary market for PV hardware reuse, resale, and recycling," says Renee Kuehl, COO at EnergyBin. "Using the EnergyBin trading exchange as a gauge for this case, we see a network that is growing in both membership and quantity listed for resale."
EnergyBin launched in 2018 with a grant from the U.S. Department of Energy Sunshot Initiative Award. The exchange is a subsidiary of Broker Exchange Network, based in Rochester, Minnesota, and founded in 2002. The company has over twenty years' experience managing B2B wholesale exchanges for IT and PV hardware. BrokerBin, EnergyBin's sister site, has a membership of 12,500 traders doing business in 65 countries.
"Six years ago, we were hearing all kinds of horror stories of solar companies throwing away excess equipment (even brand new material!) because they didn't know what to do with it and didn't have storage space to keep it," says Kuehl. "Some had a little luck reselling on Craigslist. Now, PV professionals are more likely to adopt an alternative plan via resale within the secondary market for when equipment falls out of the standard distribution channel."
PV hardware traded on EnergyBin is considered to be secondary market goods. The secondary market should not be thought of as a 'secondhand' market; although, some goods traded may have been previously installed in a solar array. Rather, the secondary market consists of both new and used equipment. It brings together buyers and sellers to trade commodities that have previously been issued or introduced into the primary market to offer an alternative channel.
With respect to key findings from the report, module prices are down since Q4 2022 as compared to U.S. spot prices documented in EnergyBin's 2022 PV Module Price Index. Although U.S. prices remain higher than global prices, non-U.S. prices on the exchange are tracking with global averages at $0.200-0.222 per watt. Of the total hardware listed for resale, modules and inverters comprised 74 percent. Additionally, 79 percent of Want-to-Buy requests were for modules and inverters. Of the Want-to-Buy requests, over half were seeking price quotes for new projects, and 29 percent were looking for replacement parts.
To read the full report, visit https://resources.energybin.com/solar-resources/pv-hardware-trade-analysis-h1-2023.
Featured Product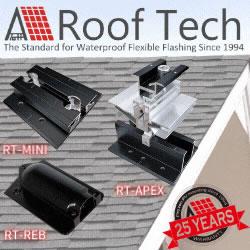 Now Roof Tech brings you the most innovative, watertight mounting systems ever developed for solar photovoltaic systems. Designed and manufactured exclusively for us by Japan's longtime leader in roofing technologies, Roof Tech products are 100% code-compliant and offer fast, simple installation and huge savings on shipping costs due to their compact, rail-less design. Learn more about our full line of versatile PV mounting solutions now available for residential installations. The next generation in rooftop solar mounting solutions."