-Modular and scalable system brings the simplicity of children's building blocks to sophisticated energy storage systems -Reduced total cost of ownership and minimized environmental footprint -Complete range of safety features built in including fire detection and suppression system, emergency stop function, isolation monitoring and deflagration panel Ideal for microgrid and EV fast-charging applications
Higher energy densities, enhanced functionality, and industry leading safety, feature prominently in latest Energport product offering.
New offerings include 410W/400W H Series panels with more power in a smaller footprint; 370W/360W PK Black Series panels featuring economy pricing and sleek design; and EverVolt® 2.0 additions to enhance user experience
Rochester Area Solar Company to Compete in National Solar Games
Save $430 by pre-ordering the portable home energy storage unit
Attendees are invited to stop by S-5!'s Booth (#1947) to see first-hand its PVKONCEAL™ module skirt. Paired with the PVKIT® solar solution, the module skirt conceals the lower edge of the solar PV array, protecting all mechanical and electrical components underneath, as well as creating an attractive, clean finished look.
Uniquely integrated battery and control system powers potential for American homeowners
Following the top-class Restart event of the world's leading exhibition for the solar industry that took place in a compact format in October 2021, the next regular event will be held from May 11-13, 2022, in Munich.
Event to enforce COVID-19 guidelines per the State of California's mandate for Mega Events and the Long Beach Health Officer Order
In-person conference and workshops will explore the latest developments in solar, energy storage, and clean energy systems
Second annual solar + storage installer competition will take place live in the #isnaesna22 exhibit hall January 13-15, 2022
Records 1 to 11 of 11
Featured Product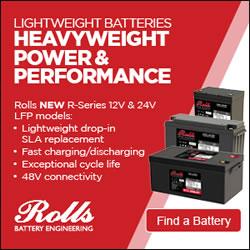 Designed for true drop-in replacement, Rolls new R-Series 12V & 24V LFP lithium models offer a maintenance-free lightweight flooded and SLA alternative in four popular BCI case sizes with fast charge/discharge capability. Rolls custom built-in BMS provides all necessary operating protections for safe operation and seamless integration for deep cycle replacement in 12V, 24V or 48V systems.