A solar option for home comfort
For homeowners interested in reducing their personal carbon footprint through solar power but wanting to start off on a smaller scale than a whole-house option, an exciting, energy-saving solution will be available soon from heating and air conditioning leader Lennox Industries. Expected to be available in 2009, Lennox' new SunSource™ system is the industry's first integrated, solar-assisted residential heating and cooling system - and it uses just a single 190-watt solar panel. Featuring a patent-pending design, the innovative system is currently in full operation at multiple test sites throughout the country. The single 190-watt solar panel provides power to assist the fan motor that moves air across the outdoor coil, a key part of any home comfort system. Read more.
Comments (1)
Post A Comment
You must be logged in before you can post a comment. Login now.
Featured Product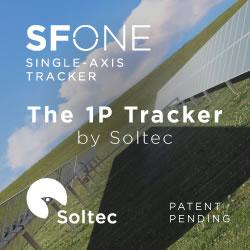 Under the slogan "engineered for greatness", the SF8 tracker aims to revolutionize the photovoltaic market with its new minimum 2x60 configuration and 4 to 6-strings. This tracker is elegantly designed while it reinforces its structure to perform in any terrain. In addition, the SF8 tracker increases the rigidity of its structure by 22% more than the previous generation of Soltec trackers, the SF7. The SF8 is specially designed for larger 72 and 78 cell modules, an increasing market trend.