CLEAN TECH OPEN - 100,000 GREEN-COLLAR JOBS
The Clean Tech Open, the innovation catalyst that helps great ideas become viable clean tech businesses has challenged entrepreneurs, venture capitalists, government agencies, universities, and non-government organizations (NGOs) to participate in the Clean Tech Open's 100K Jobs Challenge - to create 100,000 clean tech jobs in America over the next five years. The leading clean tech business competition has already helped more than 120 entrepreneurs launch companies-and subsequently raise over $125 million in external funding-since its inception in 2006.
Comments (1)
This is an example of what decisions encouraged the recession in the USA. Buying products (Photovoltaics from Canadian Solar Inc.) from outside of this country. Maybe the monetary cost was lower, but the economic value for This country is greater than the slight difference of monetary cost. When MA. bought product that its own state businesses produce from outside this state and country, that contributed to shutting down said Photovoltaic Production Plants in the state of MA. When businesses purchase products outside of this country that this country produces, they are promoting the current or any recession. USA businesses that have USA citizens for clients, can't afford to purchase foreign products, because essentially you are putting your clients out of work which will eventually put their own businesses out of business.
Post A Comment
You must be logged in before you can post a comment. Login now.
Featured Product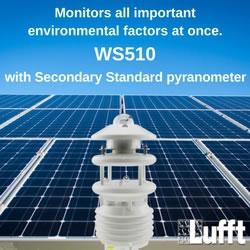 Professional weather sensors form the heart of large solar plants supporting their operation and performance. Lufft was the first manufacturer to combine several sensors in one housing, bringing the largest multiparameter weather sensor family with 19 members into being. Many of them are well-suited for solar site assessment and continuous monitoring. The most commonly used one is the WS600 delivering data on temperature, air pressure, wind, relative humidity and precipitation. Through its open protocol, it can easily be attached to radiation sensors e.g. from Kipp&Zonen. Other models have an integrated Silicon, Second Class or Secondary Standard radiation sensor.