Solar Power collector doubles as greenhouse shade
Solyndra has found a second use for its solar collector as a shade for greenhouses. The company on Monday said that that its solar collectors, which are an array of solar cell-covered glass tubes, are being tested at agriculture research centers in Italy and the University of California, Davis. A conventional flat solar panel would block essentially all light, but Solyndra's collectors allow for light to pass through the glass tubes, which are coated with thin-film solar cells. That provides a diffused light conducive to greenhouse plant growth and allows growers to use their available space for power production, the company said. "We are pioneering this new agricultural solar solution in Italy, where extensive shaded agriculture operations combined with strong insolation and a favorable feed-in tariff are driving strong interest and demand," Clemens Jargon, the president of Solyndra in Europe, Middle East, and Africa, said in a statement.
Comments (0)
This post does not have any comments. Be the first to leave a comment below.
---
Post A Comment
You must be logged in before you can post a comment. Login now.
Featured Product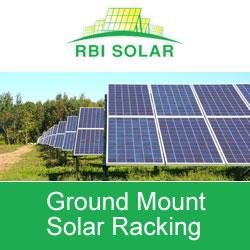 RBI ground mount solar systems are designed and engineered for each customer's site specific conditions to minimize the field installation labor and require no field welding, drilling, or other on-site fabrication. Our meticulous project planning and precise execution combine to provide you with solar racking solutions that are tailored to the unique conditions of your location. RBI provides a wide range of PV mounting systems in various sizes to offer freedom and flexibility to support every type of PV module. RBI Solar ground mount system is a perfect utility scale solar racking solution with two models classified by Intertek to UL subject 2703. ETL Classified systems include proven models GM-I and GM-T which have been used on many large commercial and utility scale solar racking projects across the country.