Obama unveils sharp increase in auto fuel economy
Several major auto makers on Friday embraced the Obama administration's proposal to push the industry further away from once-dominant gas guzzlers to more lean and efficient vehicles. The proposal, which is the result of months of negotiations between the Obama administration and auto makers, would require the companies to reach an average fuel efficiency across their U.S. fleets of 54.5 miles per gallon by 2025. "This agreement on fuel standards represents the single most important step we've ever taken as a nation to reduce our dependence on foreign oil," Obama said at an event announcing the new standards. Flanked by top auto maker executives, Obama said the new rules would lower the country's oil use by 2.2 million barrels a day over the next 15 years. The rules will cut more than 6 billion tons of carbon emissions for the duration of the program.
Comments (0)
This post does not have any comments. Be the first to leave a comment below.
---
Post A Comment
You must be logged in before you can post a comment. Login now.
Featured Product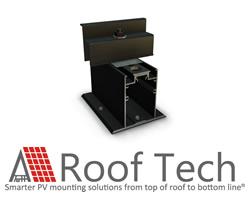 The most compact versatile rail-less PV mounting system under the sun. Instead of placing solar panels on top of long rails, simply attach E Mount AIR to rafters or the roof decking. Once panels are fastened to the roof, the system array is electrically bonded. The result is a visually seamless PV installation that stands the test of time. - Truly "One With The Roof". - PE stamped cert. letters available, UL 2703 Classified, ASTM 2140 fully waterproof. The one and only with integrated flexible flashing certified by the ICC! All the best quality. Only from Roof Tech