Energy plays key role in Obama's State of the Union
For the third year in a row energy played a central role in President Obama's State of the Union address, with the president leaning hard this year on the twin themes of increased domestic oil and gas production and the need to invest more in renewable sources. "Right now, American oil production is the highest that it's been in eight years," said Obama. "Not only that -- last year, we relied less on foreign oil than in any of the past sixteen years." Obama has indeed presided over a boom in domestic energy production since taking office. From 2008 to 2011 U.S. crude oil production has jumped 14%, going from 5.1 million barrels per day at the start of 2008 to nearly 5.8 million barrels per day currently, according to the U.S. Energy Information Administration. Natural gas production is up by about 10% over the same period.
Comments (1)
Round pistons and cylinders, etc components? Would these be toroidal in nature not round and be much more difficult to machine, setup, and hold tolerances on? just sayin'. Tim
Post A Comment
You must be logged in before you can post a comment. Login now.
Featured Product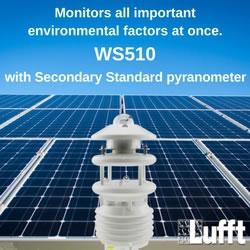 Professional weather sensors form the heart of large solar plants supporting their operation and performance. Lufft was the first manufacturer to combine several sensors in one housing, bringing the largest multiparameter weather sensor family with 19 members into being. Many of them are well-suited for solar site assessment and continuous monitoring. The most commonly used one is the WS600 delivering data on temperature, air pressure, wind, relative humidity and precipitation. Through its open protocol, it can easily be attached to radiation sensors e.g. from Kipp&Zonen. Other models have an integrated Silicon, Second Class or Secondary Standard radiation sensor.