VA Selected for Nation's 2nd Offshore Wind Energy Lease Sale
Governor Bob McDonnell issued the following statement this morning following news that the Bureau of Ocean Energy Management has selected an area off the coast of Virginia as the site of the nation's second offshore wind energy lease sale. On September 4th, the Department of the Interior will auction 112,799 acres offshore of the Commonwealth in a competitive lease sale. The area will be sold as one single lease and it is anticipated it will support 2000 megawatts of wind generation and enough electricity to power 700,000 homes.
"Today, the Department of the Interior's Bureau of Ocean Energy Management announced the formal date for the auction of lease blocks in federal waters off Virginia's outer continental shelf for the commercial development of offshore wind energy. This will be only the second offshore wind energy lease sale in American history and it is an exciting and significant step in our bipartisan effort to advance Virginia's 'all-of-the-above' energy strategy. I want to thank Interior Secretary Sally Jewell and her team at BOEM for moving this project forward as part of a comprehensive approach toward meeting our nation's energy needs and creating more good jobs for our people.
"Earlier in our Administration we were pleased to accept the invitation of then Interior Secretary Ken Salazar to join the Department's Offshore Wind Consortium, and we worked with the Secretary on the 'Smart from the Start' program. Together with the General Assembly, we created the Virginia Offshore Wind Development Authority (VOWDA) to oversee the data gathering, research and planning that must be done to support offshore wind development off of Virginia's coast. As part of that effort we are currently working toward final approval of two offshore wind research leases.
"Virginia's coast is ideal for wind development. The gradual slope of the Outer Continental Shelf and consistent offshore wind speeds make this a natural geographic location for the commercial utilization of offshore wind resources. At the same time, Virginia enjoys a robust commercial ship building industry poised to become the center of construction for the component parts needed to build the specialized ships, turbines and towers necessary for these upcoming leases, and potentially for additional future wind leases on the east coast. This will result in millions of dollars in industrial activity and the creation of many new high-skilled jobs in our state.
Comments (0)
This post does not have any comments. Be the first to leave a comment below.
---
Post A Comment
You must be logged in before you can post a comment. Login now.
Featured Product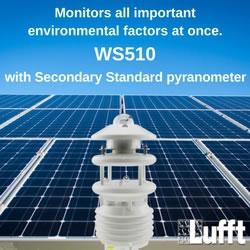 Professional weather sensors form the heart of large solar plants supporting their operation and performance. Lufft was the first manufacturer to combine several sensors in one housing, bringing the largest multiparameter weather sensor family with 19 members into being. Many of them are well-suited for solar site assessment and continuous monitoring. The most commonly used one is the WS600 delivering data on temperature, air pressure, wind, relative humidity and precipitation. Through its open protocol, it can easily be attached to radiation sensors e.g. from Kipp&Zonen. Other models have an integrated Silicon, Second Class or Secondary Standard radiation sensor.