U.S. Dept. of Energy Supports New Renewable Energy Storage System
The two bottlenecks inhibiting further use of renewable energy systems are cost and the fact that the sun doesn't always shine or the wind blow-in one word, storage. While mass production of components such as solar photovoltaic cells means that their price has been dropping, the issue of storing and releasing electricity generated by renewable sources during their down times has led engineers worldwide to tackle the problem.
Large-scale, low-cost energy storage is needed to improve the reliability, resiliency, and efficiency of next-generation power grids. Energy storage can reduce power fluctuations, enhance system flexibility, and enable the storage and dispatch of electricity generated by variable renewable energy sources such as wind, solar, and water power.
Now one technology seems sufficiently promising that it is receiving funding from the U.S. Department of Energy's Office of Electricity Delivery and Energy Reliability Energy Storage Program.
What is this promising new technology?
Isothermal compressed air energy storage (ICAES) refers to storage of compressed air at a constant temperature, which is a key element in the improved energy efficiency of the system.
SustainX has completed construction of its first utility scale ICAES system. It was hooked up to the grid earlier this month and it's now in the process of revving up to speed. The DOE's Office of Electricity Delivery and Energy Reliability's Energy Storage Program underwrote $5,396,023 of the system's cost.
Comments (0)
This post does not have any comments. Be the first to leave a comment below.
---
Post A Comment
You must be logged in before you can post a comment. Login now.
Featured Product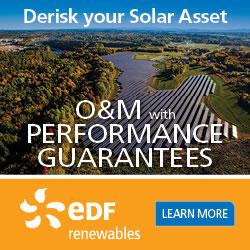 EDF Renewables offers the same innovative solutions that maximize the performance of our own 5.2 GW of installed projects. Because we're not an equipment manufacturer, our recommendations are transparent and data-driven. We cover the entire project lifecycle: from pre-commissioning support, through warranty and post warranty operation, to late stage and decommissioning.