The US has 43 nuclear power plants' worth of solar energy in the pipeline
The boom in solar energy in the US in recent years? You haven't seen anything yet. The pipeline of photovoltaic projects has grown 7% over the past 12 months andnow stands at 2,400 solar installations that would generate 43,000 megawatts(MW), according to a report released today by market research firm NPD Solarbuzz. If all these projects are built, their peak electricity output would be equivalent to that of 43 big nuclear power plants, and enough to keep the lights on in six million American homes.
Only 8.5% of the pipeline is currently being installed, with most of it still in the planning stages. Some projects will inevitably get canceled or fail to raise financing.
But there's reason to believe that a good chunk of these solar power plants and rooftop installations will get built over the next two years. That's because a crucial US tax break for renewable energy projects is set to fall from 30% to 10% at the end of 2016. So there will be a rush to get projects online. In 2012, for instance, wind developers installed a record 13,131 MW as a key tax credit was set to expire, accounting for 42% of all new US electricity capacity that year. (The US Congress subsequently renewed the tax break for another year.)
Comments (0)
This post does not have any comments. Be the first to leave a comment below.
---
Post A Comment
You must be logged in before you can post a comment. Login now.
Featured Product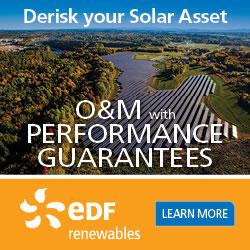 EDF Renewables offers the same innovative solutions that maximize the performance of our own 5.2 GW of installed projects. Because we're not an equipment manufacturer, our recommendations are transparent and data-driven. We cover the entire project lifecycle: from pre-commissioning support, through warranty and post warranty operation, to late stage and decommissioning.