Google Glass Does Solar Panel Installs in the California Sun
You might think of Google Glass as one of those tech creations that's more intriguing than practical. You might see computerized eyewear as a Silicon Valley nerd fantasy that's unlikely to change the way the rest of the world works. You would not be alone.
But that's not how Michael Chagala sees it. Chagala is the director of IT at Sullivan Solar Power, which is slipping Google Glass onto the heads of the field technicians who install its solar panels atop homes and businesses across Southern California.
Because every building is unique, these field techs need ready access to all sorts of specs and plans describing the job at hand. In the past, they've carried three-ring binders onto the roof, but those are so hard to handle — particularly when the wind is blowing pages. They've lugged laptops up there too, but that comes with its own problems, including, well, the sun. So Chagala and company are switching to Glass, allowing their techs to browse documents simply by looking through the eyewear. For the most part, they can do this without using their hands — though you do have to tap the side of the glasses to move from doc to doc.
"When you have someone on a roof, safety is your primary concern," Chagala says. "Having both hands free is significant."
Lead by Chagala, the company has built a custom Glass app that taps into a database housing its customer records, information about particular job sites, and its inventory of parts and equipment. But its technicians also will use other tools available with the eyewear. A field worker can, say, call headquarters with questions or transmit live video of a roof installation to get some feedback.
Comments (0)
This post does not have any comments. Be the first to leave a comment below.
---
Post A Comment
You must be logged in before you can post a comment. Login now.
Featured Product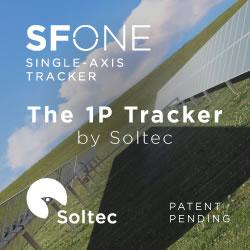 Soltec manufactures and supplies solar trackers designed and proven for extreme climate conditions, which is an ideal solution for any region's environment. Soltec's trackers are self-powered, requiring no additional PV module or grid-powered connection. Bifacial modules collect energy on both the front and rear sides, capturing reflected irradiance from the ground surface under and around the tracker and from other modules. Depending on site conditions, bifacial yield-gain can reach +30 percent.