No, cheap oil will not kill solar power
As the price of oil has tumbled to five-year lows, solar stocks have fallen with it: First Solar was trading near $72 in mid-September; now it's around $44. Solar City has around $65; now it's close to $50.
Solar energy investors seem to be running for the doors, fearing that cheap oil will erase demand for alternative energy. But it won't, say industry analysts. Oil and solar serve two different customers.
Oil dominates energy demand in transportation fuels, but solar power customers are primarily of two types: public electric utilities and large corporations. Neither of those use oil to generate electricity, and they are not about to start doing so, say analysts.
Less than 5 percent of the world's electricity comes from oil; most of it comes from coal, natural gas, nuclear and, increasingly, solar power. Public utilities sign long-term agreements with solar providers, sometimes spanning 20 years. Those deals are unaffected by oil price changes, said Jeff Osborne, an analyst with Cowen Group.
Comments (0)
This post does not have any comments. Be the first to leave a comment below.
---
Post A Comment
You must be logged in before you can post a comment. Login now.
Featured Product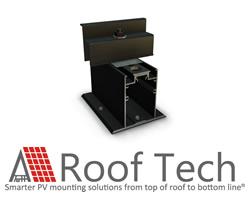 The most compact versatile rail-less PV mounting system under the sun. Instead of placing solar panels on top of long rails, simply attach E Mount AIR to rafters or the roof decking. Once panels are fastened to the roof, the system array is electrically bonded. The result is a visually seamless PV installation that stands the test of time. - Truly "One With The Roof". - PE stamped cert. letters available, UL 2703 Classified, ASTM 2140 fully waterproof. The one and only with integrated flexible flashing certified by the ICC! All the best quality. Only from Roof Tech