Nexus eWater Completes $2.1 Million Series A Funding Round
Nexus eWater has developed the world's first practical water and energy recycler for homes. The estimated annual US market for this new product suite is projected at $15 billion per year. The patented product collects a home's grey water (the drain water from showers and laundry), then cleans it to the highest standard for at-home recycling for lawn watering and other approved uses. Additionally, the system captures and re-uses the heat found in the grey water for further recycling. The system is available for both new homes and for retrofits.
The international investor team includes Canberra-based venture fund ANU Connect Ventures (ANUCV), the Sydney Angels and the Sydney SideCar Fund. The round was led by Thomas Reeves Hitchner, the retired general partner of Baltimore-based venture fund, QuestMark Partners. Proceeds from this funding cycle will complete the initial product roll-out of Nexus' on-site water and energy recycling products for the California and US market.
The Nexus system is affordable, robust and efficient. It is a sustainability "triple play." For a house with a family of four, the system provides these three benefits:
Reduces in-home water usage by 40%, (up to 200 gallons per day) by recycling 67% of the water used in a house;
Reduces wastewater by 70%, (up to 200 gallons per day); and
Reduces home electric energy usage by 10-20%.
The energy recycler provides the equivalent power of a 1.5 kW solar array, but at a fraction of the cost. In large, older homes, this amount could be tripled. Energy recycling is accomplished by using a patented heat pump system, which harvests the energy from the warm grey water and then uses that energy to heat fresh, new water for the home. By recycling this energy, the home's water can be heated using 75% less energy than any conventional tank or tankless water heater.
Comments (0)
This post does not have any comments. Be the first to leave a comment below.
---
Post A Comment
You must be logged in before you can post a comment. Login now.
Featured Product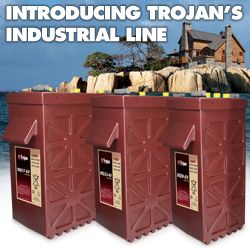 Trojan's deep-cycle batteries provide rugged durability, outstanding performance and long life for use in all types of solar energy installations. With over 90 years of experience, Trojan delivers the world's most reliable and trusted batteries in flooded, AGM, Gel, and Lithium types. These batteries enable solar equipment systems to operate at a peak level of performance in the harshest conditions or the most challenging of locations and are manufactured and tested to IEC standards.