'Mega' floating solar power plants open in Japan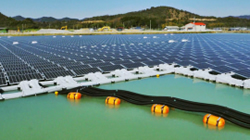 Two floating solar power plants capable of providing electricity for 1,000 homes have been completed in Japan.
The latest such "mega-plants" at Nishihira and Higashihira Ponds in Kato City are the work of electronics giant Kyocera Corporation and Century Tokyo Leasing Corporation, and took just seven months to install. The plant's 11,250 modules are expected to generate 3,300 megawatt hours (MWh) every year.
According to Kyocera, besides being typhoon-proof (due to their sturdy, high-density polyethylene and array design) floating solar plants are superior to their land-based equivalents because of the cooling effect of the water, which allows them to function more efficiently. Reservoirs are also an ideal location because the panels produce shade, which reduces water evaporation and promotes algae growth. A report by Korea Water Resources Corporation found that the lower temperatures of the floating modules mean they are 11 percent more efficient than land-based equivalents. The report identified unsolved issues with the plants, too, however. It said the study had to discard data collected when the panels moved in the wind, and said research into new mooring systems was "continually needed".
Comments (0)
This post does not have any comments. Be the first to leave a comment below.
---
Post A Comment
You must be logged in before you can post a comment. Login now.
Featured Product
Sonnen's mission is to provide clean and affordable energy for all. As the first mainstream grid tied residential energy storage company in the world and with 24,000 sonnenBatterie systems installed worldwide, sonnen is a proven global leader in intelligent energy management solutions. The all-in-one sonnenBatterie smart energy storage solution easily integrates with new and existing solar installations to help homes manage their energy throughout the day-saving money, providing backup power, and maximizing the effective use of solar power day and night. Sonnen has won several awards for its energy innovations, including the 2017 Zayed Future Energy Prize, MIT's Technology Review's 50 Smartest Companies in 2016, Global Cleantech 100 for 2015-2017, Greentech Media's 2016 Grid Edge Award for Innovation, and Cleantech's 2015 Company of the Year Award in both Israel and Europe.