24M Introduces the Semisolid Lithium-Ion Battery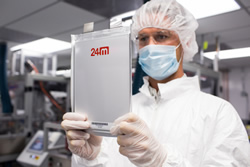 Today, 24M emerged from stealth mode to introduce the semisolid lithium-ion cell, a revolutionary technology that solves the grand challenge of energy storage by enabling a new, cost-effective class of the lithium-ion battery. 24M's semisolid lithium-ion is the most significant advancement in lithium-ion technology in more than two decades and combines an overhaul in battery cell design with a series of manufacturing innovations that, when fully implemented, will slash today's lithium-ion costs by 50% and improve the performance of lithium-ion batteries. The technology will accelerate the global adoption of affordable energy storage.
Until now, the energy storage field has had two options to try to drive down costs – build massive and complex factories to produce lithium-ion batteries in high volumes or pursue entirely new chemistries that may never move from the lab to the commercial floor. With the invention of the semisolid lithium-ion battery, 24M presents a third option – work with the world's preferred energy storage chemistry and unlock new opportunities for cost reductions through new cell design and manufacturing innovations. 24M's platform is the most significant advancement in lithium-ion technology since its debut more than 20 years ago.
Comments (0)
This post does not have any comments. Be the first to leave a comment below.
---
Post A Comment
You must be logged in before you can post a comment. Login now.
Featured Product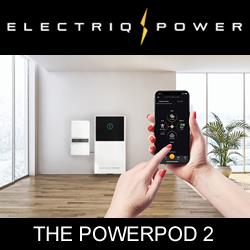 The Electriq PowerPod 2 is a fully-integrated home energy storage, management, and monitoring system powered by LFP batteries. The high-performance, cobalt-free product includes a hybrid solar/battery inverter controlled by intelligent software. The PowerPod 2 provides backup power and can self-consume or export excess power back to the grid.