Concentrator Photovoltaics: The Next Step Towards Better Solar Power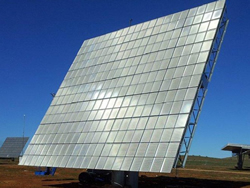 By Lauren J. Young for IEEE Spectrum: Today's concentrator photovoltaic (CPV) technologies have shown promising potential for more efficient solar power. The latest systems are said to be capable of handling the power of a hundred suns. Yet prototypes have failed to compete with cheaper flat panel solar systems that dominate the market. The U.S. Department of Energy's Advanced Research Projects Agency (ARPA-E) is determined to push CPV to the next level. On 24 August, at the Clean Energy Summit, U.S. President Barack Obama and Energy Secretary Ernest Monizannounced a program called MOSAIC that will invest $24 million into CPV solar technology development.
Why can't today's CPV systems compete? The concentrators can only convert direct sunlight into energy, missing out on the large fraction of sunlight diffracted by clouds and the atmosphere. Manufacturing costs of concentrator apparatuses have also prevented CPV from reaching mass production. Cont'd...
Comments (0)
This post does not have any comments. Be the first to leave a comment below.
---
Post A Comment
You must be logged in before you can post a comment. Login now.
Featured Product
What if you could maximize the Ground Coverage Ratio (GCR) on your next project and not have to worry about the complicated variables that come with a tracker system? With a low tilt and clearance design, Dahlia® has the highest GCR of any fixed-tilt system in the marketplace. The system is available in three tilt options (7.5, 10 and 12.5 degrees) and designed to accommodate any sized PV module. The lightweight system is engineered with fewer components, several of which are shipped to job sites pre-assembled. This design feature reduces freight costs and rapidly trims the amount of on-site installation time required to complete construction. Maximizing PV coverage on a site can lead to an increase of production, which creates greater financial return for project owners. Over 100 MW of Dahlia® projects have been deployed across the United States, in regions of variable snow and wind loads. How much can Dahlia® cover and save you on your next project?