Electric Utilities Prepare for a Grid Dominated by Renewable Energy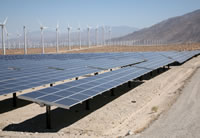 Julia Pyper for GTM: A growing number of electric industry leaders agree that it's only a matter of time before renewable energy resources dominate their grid systems.
In California, it's already a reality, said Steve Berberich, president and CEO of California Independent System Operator Corporation. On a typical day, CAISO will pull about 30,000 megawatts of energy production, with around 6,500 megawatts from solar, 5,000 megawatts from wind and another 5,000 from geothermal and other services on the system. In addition, California's grid system has roughly 4,000 megawatts of behind-the-meter solar, which is growing at a rate of about 70 megawatts per month.
In any given day, California gets more than 30 percent its electricity from renewable energy. On many days that amount climbs to 40 percent, and on some days renewables reach 50 percent, said Berberich.
"Now we have to think about the system as a renewable energy-based system complemented by other things," he said, speaking at the Edison Electric Institute's annual convention this week in Chicago. Cont'd...
Comments (0)
This post does not have any comments. Be the first to leave a comment below.
---
Post A Comment
You must be logged in before you can post a comment. Login now.
Featured Product
With Baja Carports 35 plus years in the industry installing our Solar Support Systems nationwide and whose founder Bob Hayworth was one of the first to use solar panels as the rooftops on commercial carports ~ is assurance that you will receive Baja expertise in all phases of installation. Our team's diligence makes the design-build process easy for customers. You don't need a set of architecture plans to begin talking to us about your project. Baja's in-house design engineers will work closely with you to meet your project specifications and city's criteria. You'll have our design team's years of experience applied to your plans. Our engineers will deliver a set of stamped plans, which maximize canopy coverage and details the most-effective layout for your business' parking lot.