Why Every Rooftop Solar System Needs Energy Storage
John Petersen for Investor Intel: Rooftop solar is an odd duck. A consumer buys an expensive capital asset with the expectation that he'll recover his investment through lower electric bills. As a matter of metaphysics, he's decided to go into the power business with the primary goal of satisfying the most important and discriminating customer on the planet. The value proposition he currently offers his local electric utility is:
I'll buy less electricity from you because of my solar panels, but I need you on standby 24/7 to supply my nighttime needs and fill any weather related power production gaps;
Since my solar panels will frequently produce more power than I need, I want you to give me credit for any excess power production, let me draw equivalent power from you when I need it, and structure it all as a tax free swap;
You can, of course, bill me for any difference between what I deliver and what I take;
I'll have no duty to buy a fixed amount of power from you or deliver a fixed amount of power to you, but you must supply whatever I need and take whatever I don't need; and
You will be required to pay all of the costs associated with weather related production gaps and pass those costs through to your other customers.
Comments (0)
This post does not have any comments. Be the first to leave a comment below.
---
Post A Comment
You must be logged in before you can post a comment. Login now.
Featured Product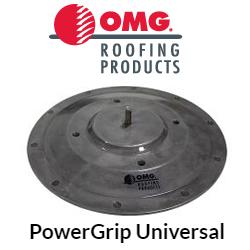 PowerGrip Plus Roof Mount System, a watertight structural attachment system used to secure ballasted solar racks and other equipment to roofs covered with thermoplastic (TPO and PVC) membranes. PowerGrip Plus is designed with wind performance in mind and offers ultimate tensile strength of 2,000 lbf. and ultimate shear strength of 1,075 lbf. Properly installed PowerGrip Plus units reduce rack movement and remaining watertight. PowerGrip Plus units are easy to install, saving both time and labor when compared to alternative options. A wide membrane skirt promotes easy welding in place, and the 15/8 diameter and 1/2 inch tall mount provides an optimal perch for securing brackets or struts. The exposed 1 inch tall and 3/8 inch diameter bolt and mounting stand are made from corrosion-resistant stainless steel and aluminum alloy for superior long-term performance.