Catch wave power in floating nets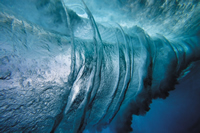 Zhong Lin Wang for Nature: Nature provides three sources of energy for free: sunlight, air and gravity. Solar and wind power are increasingly exploited, gravity less so. Hydraulic power plants harvest energy from flowing rivers. Tidal energy can be gathered along some inlets and coasts. But few places are suitable for dams or barrages, which can also damage the environment.
By contrast, oceans cover about 70% of Earth's surface. Wave energy is plentiful day and night, whatever the weather. Capturing it requires little land and raises few safety or security concerns. Yet hardly any of this 'blue energy' is being generated. Today's wave farms produce no more than 1–10 megawatts at any one time, enough to power a town. No commercial wave farms currently exist. Full article:

Comments (0)
This post does not have any comments. Be the first to leave a comment below.
---
Post A Comment
You must be logged in before you can post a comment. Login now.
Featured Product
With Baja Carports 35 plus years in the industry installing our Solar Support Systems nationwide and whose founder Bob Hayworth was one of the first to use solar panels as the rooftops on commercial carports ~ is assurance that you will receive Baja expertise in all phases of installation. Our team's diligence makes the design-build process easy for customers. You don't need a set of architecture plans to begin talking to us about your project. Baja's in-house design engineers will work closely with you to meet your project specifications and city's criteria. You'll have our design team's years of experience applied to your plans. Our engineers will deliver a set of stamped plans, which maximize canopy coverage and details the most-effective layout for your business' parking lot.