Record-breaking solar panel converts more than a quarter of sunlight into electricity
Ian Johnson for Independent:¬ The silicon solar cell is so efficient that it turns 26.3 per cent of the energy from the sun into renewable¬ power.
In contrast, nature'Äôs 'Äėsolar panels'Äô 'Äď leaves 'Äď have a 'Äúphotosynthetic efficiency'ÄĚ of between three and six per cent.
The scientists behind the new panel also said they believed they had found a way to create a one¬ with the¬ maximum level of efficiency considered to be theoretically possible¬ 'Äď 29.1 per cent.
Writing in the journal¬ Nature Energy, the¬ team¬ from the Kaneka Corporation in Osaka, said: 'ÄúImproving the photo-conversion efficiency of silicon solar cells is crucial to further the deployment of renewable electricity.¬
'ÄúEssential device properties such as lifetime, series resistance and optical properties must be improved simultaneously to reduce recombination, resistive and optical losses.¬
'ÄúHere, we use industrially compatible processes to fabricate large-area silicon solar cells 'Ķ the photo-conversion efficiency is over 26 per cent.'ÄĚ ¬ Full Article:
Comments (0)
This post does not have any comments. Be the first to leave a comment below.
---
Post A Comment
You must be logged in before you can post a comment. Login now.
Featured Product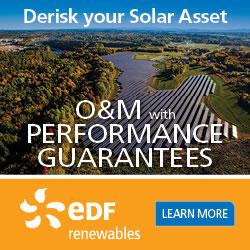 EDF Renewables offers the same innovative solutions that maximize the performance of our own 5.2 GW of installed projects. Because we're not an equipment manufacturer, our recommendations are transparent and data-driven. We cover the entire project lifecycle: from pre-commissioning support, through warranty and post warranty operation, to late stage and decommissioning.