U.S. Solar Market Adds 2 Gigawatts of PV in Q1 2017
BOSTON, Mass. and WASHINGTON, D.C. - Following rapid growth across the industry in 2016, the United States solar market added 2,044 megawatts of new capacity in the first quarter of 2017. As installations grow, prices continue to fall to new lows, with utility-scale system prices dropping below the $1 per watt barrier for the first time, according to GTM Research and the Solar Energy Industries Association's (SEIA) latest U.S. Solar Market Insight Report.

Q1 was the sixth straight quarter in which more than two gigawatts of solar photovoltaics (PV) and more than one gigawatt of utility-scale PV was installed.

The residential and non-residential PV markets are both expected to experience year-over-year growth, even as the quarterly numbers saw a drop from last year's record-setting pace, the report said.

"The solar market clearly remains on a strong upward trajectory," said Abigail Ross Hopper, SEIA's president and CEO. "Solar is delivering more clean energy, adding jobs 17 times faster than the U.S. economy and creating tens of billions of dollars in investment. With its cost-competitiveness, we know solar will continue to play a growing role in America's energy portfolio."

The utility-scale segment continues to drive the market, representing more than half of all PV installed during the quarter. Much of the capacity comes from projects that were originally slated for completion in 2016, but ended up being pushed back due to the extension of the federal Investment Tax Credit. And this entire year is expected to benefit from those "spill-over" projects.

"Utility solar is on the cusp of another boom in procurement," said Cory Honeyman, GTM Research's associate director of U.S. solar. "The majority of utility solicitations are focused on maximizing the number of projects that can come online with a 30 percent federal Investment Tax Credit in 2019, or later by leveraging commence construction rules."

FIGURE: Annual U.S. Solar PV Installations, Q1 2012-Q1 2017


Source: GTM Research / SEIA U.S. Solar Market Insight Report, Q2 2017

The non-residential solar market—which includes commercial, industrial and community solar installations—grew 29 percent year-over-year, but was down 39 percent from a record high fourth quarter 2016.

The report highlighted Minnesota's growing community solar market. The state nearly doubled its cumulative community solar deployment in Q1.

Several other states not as well known for their solar markets saw particularly large jumps in installations this quarter, including Idaho and Indiana. Meanwhile, emerging state markets such as Utah, Texas and South Carolina continued their growth.

More than a half-gigawatt of residential PV was installed in the quarter, down 17 percent from the first quarter of last year. Part of the slowdown can be attributed to national installers pulling back operations in unprofitable geographies and customer acquisition challenges in more mature residential state markets like California.

According to the report, residential PV installations in California will fall year-over-year for the first time this decade. Despite this, California remains the largest state market for residential solar installations.

FIGURE: Annual Base Case U.S. PV Installation Forecast, 2010-2022E



Source: GTM Research / SEIA U.S. Solar Market Insight Report, Q2 2017

GTM Research forecasts that 12.6 gigawatts will come online in 2017, 10 percent less than 2016's boom. Total installed U.S. solar PV capacity is expected to nearly triple over the next five years, and by 2022, more than 18 gigawatts of solar PV capacity will be installed annually.

However, downside risk looms over the long-term outlook for U.S. solar, due to a new trade dispute initiated by Suniva.

According to the report, if Suniva's petition for a minimum silicon PV module price of 78 cents per watt is successful, it could raise system costs between 13 and 35 percent, depending on segment. While it remains unclear how the International Trade Commission will ultimately rule on this petition by Suniva, the approval of the petition as initially filed would result in substantial downside revisions to the GTM Research forecast across all three segments.

Key findings from the report
In Q1 2017, the U.S. market installed 2,044 MWdc of solar PV.
In Q1, solar was the second largest source of new electric generating capacity additions brought on-line, responsible for 30% of new generation, second only to natural gas.
Despite accounting for its lowest share of the residential market at 35%, California is still the largest state market for residential PV, though contraction in the state was the primary driver behind the national residential market falling 17% over Q1 2016.
Community solar continues to be a bright spot for non-residential PV with deployments in Minnesota helping the segment grow more than 30% over Q1 201
Installed system prices continue to drop across all market segments, with fixed-tilt utility-scale systems dipping under the $1/watt barrier for the first time.
GTM Research forecasts that 12.6 GWdc of new PV installations will come on-line in 2017, down 10% from a record-breaking 2016.
Total installed U.S. solar PV capacity is expected to nearly triple over the next five years. By 2022, more than 18 GW of solar PV capacity will be installed annually.
Suniva's filing of a Section 201 petition to impose trade remedies on foreign-manufactured cells and modules threatens to significantly reduce PV installations across all segments if accepted in its current state. The nuances of this case are detailed in the full report.
About SEIA®:

Celebrating its 43rd anniversary in 2017, the Solar Energy Industries Association® is the national trade association of the U.S. solar energy industry, which now employs more than 260,000 Americans. Through advocacy and education, SEIA® is building a strong solar industry to power America. SEIA works with its 1,000 member companies to build jobs and diversity, champion the use of cost-competitive solar in America, remove market barriers and educate the public on the benefits of solar energy. Visit SEIA online at www.seia.org.
About GTM Research:
GTM Research, a division of Greentech Media, provides critical and timely market analysis in the form of research reports, data services, advisory services and strategic consulting. GTM Research's analysis also underpins Greentech Media's webinars and live events. Our coverage spans the green energy industry including solar power, grid modernization, energy storage, energy efficiency and wind power sectors.
Comments (0)
This post does not have any comments. Be the first to leave a comment below.
---
Post A Comment
You must be logged in before you can post a comment. Login now.
Featured Product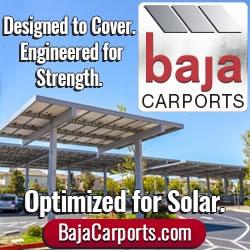 Baja Carports offers an extensive solar support system product line customized to customers' site specifications by in-house engineers, meeting their parking lot coverage, plus optimal PV production needs. Baja's Full Cantilever Tee is often paired with its Semi and Full Cantilever carports to meet live/loads up to 60psf and wind speeds to 160mph. All Baja products are pre-fabricated, bolted connections, pre-galvanized structural steel for fast on-site installation and project aesthetic requirements."