Mazda Combustion Technology News Sends Jolt Through Electric Car Industry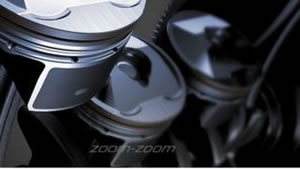 John Harrington for 247WallStreet: Not so fast, electric cars. Japanese automaker Mazda said Tuesday that it had achieved a breakthrough in combustion-engine technology that could keep gasoline-powered vehicles on the road a while longer, remaining a competitor with the electric car.
Mazda said in a press release that the engine technology will be up to 30% more efficient than the carmaker's conventional systems. It hopes to have the system ready for 2019 models.
Mazda said in a statement:
In light of the rapid changes taking place in the automotive industry, the new vision takes a longer-term perspective and sets out how Mazda will use driving pleasure, the fundamental appeal of the automobile, to help solve issues facing people, the earth and society. … Mazda hopes to help create a future in which people, the earth and society can coexist with cars, to enrich people's lives through a car ownership experience that celebrates driving, and to become a brand with which customers feel a strong emotional connection.
Comments (0)
This post does not have any comments. Be the first to leave a comment below.
---
Post A Comment
You must be logged in before you can post a comment. Login now.
Featured Product
With Baja Carports 35 plus years in the industry installing our Solar Support Systems nationwide and whose founder Bob Hayworth was one of the first to use solar panels as the rooftops on commercial carports ~ is assurance that you will receive Baja expertise in all phases of installation. Our team's diligence makes the design-build process easy for customers. You don't need a set of architecture plans to begin talking to us about your project. Baja's in-house design engineers will work closely with you to meet your project specifications and city's criteria. You'll have our design team's years of experience applied to your plans. Our engineers will deliver a set of stamped plans, which maximize canopy coverage and details the most-effective layout for your business' parking lot.