Wind power closes 2017 strong, lifting the American economy
WASHINGTON, D.C., Jan. 30, 2018 — The U.S. wind power industry closed 2017 strong, delivering 7,017 megawatts (MW) of new wind power capacity representing $11 billion in new private investment, according to the U.S. Wind Industry Fourth Quarter 2017 Market Report, released today. Twenty-nine new wind farms totaling 4,125 MW came online across 16 states in the fourth quarter.
The wind industry's powerful growth is poised to continue in 2018 and beyond, delivering jobs and private investment to rural areas and factory towns. The pipeline of wind farms under construction or in advanced development totals 28,668 MW, a 34 percent increase compared to the end of 2016.
"Wind delivered big results for the U.S. economy in 2017. Building new wind farms keeps American factory and construction workers busy, while breathing new life into farming and ranching communities," said Tom Kiernan, CEO of the American Wind Energy Association (AWEA). "This American success story will continue, with the wind project construction and advanced development pipeline four times greater than the amount installed in 2017. That means tens of billions in additional infrastructure investment is on its way to the United States of America."
There are now 89,077 MW of wind power installed across 41 states, enough to power 26 million American homes.
Oklahoma surpassed Iowa in the fourth quarter to rank second in the nation for total installed wind capacity, illustrating continued strong development activity throughout the American heartland from Texas north to the Dakotas. Texas remains the national leader for installed wind capacity and would be ranked sixth in the world if it were a country. Texas also led the quarter for new wind capacity, with 1,179 MW installed, followed by Oklahoma (851 MW), Iowa (334 MW), Illinois (306 MW), and Missouri (300 MW).
New long-term contracts signed for wind energy, known as power purchase agreements (PPAs), totaled 710 MW during the fourth quarter and 5,496 MW for the year, a higher PPA volume than any year since 2013. All of the new PPAs in the fourth quarter were signed by non-utility customers, including first-time buyer Bay Area Rapid Transit, as well as repeat customers Google Energy, Facebook, and Digital Realty. Non-utility customers have become a large and steady source of demand for wind power, but utilities continued to be the biggest overall customers, signing roughly 60 percent of the contracted wind capacity in 2017.
Utilities and these Fortune 500 brands are buying wind power because it makes business sense and it's clean. Investment firm Lazard recently reported the cost of wind energy fell another 4 percent over the last year, on top of a two-thirds cost decline from 2009-2016. American ingenuity and technological improvements allow modern wind turbines to reach stronger, steadier winds, while big data helps cut operations and maintenance costs. Lazard also confirms that in many parts of the country, wind is cheaper than conventional energy sources without incentives.
Performance-boosting technological improvements spurred an increase in partial wind farm repowerings in 2017. AWEA defines partial repowerings as either a nacelle replacement, meaning the replacement of all major turbine components other than the tower and foundation, OR a major retrofit, which entails the replacement of the rotor and blades and at least one major internal nacelle component. In total, the U.S. wind industry completed 2,136 MW of partial repowerings across 15 project phases during 2017. Partial repowering activity is expected to accelerate in the near term.
Momentum to scale up the offshore wind industry continued to build in 2017. There are now five offshore wind projects currently in advanced development, representing over 490 MW of future offshore wind capacity. In the fourth quarter, MHI Vestas invested $35 million in a testing facility at Clemson University in South Carolina for its 9.5 megawatt offshore turbine, one of the biggest in the world. Just over a year has passed since the Block Island Wind Farm, America's first offshore wind project, began operating. Its five turbines are delivering lower electricity rates, better quality electricity, increased tourism, and high speed internet to Block Island.
State and federal policy remain critical factors as the offshore wind industry seeks the scale needed to grow a domestic supply chain and further cut costs. Maryland, Massachusetts, New Jersey and New York have advanced nation-leading policies as they compete for the first large-scale offshore wind project. At the federal level, the Department of the Interior's decision to allow design envelope planning for offshore wind projects streamlines the permitting process and will allow greater flexibility for developers.
Zoom in on a map of every wind farm and factory across America.
For a library of up-to-date images of wind energy, please use this link.
WindIQ powers AWEA's market reports, click here to learn more.
###
AWEA is the national trade association of the U.S. wind energy industry. We represent 1,000 member companies and over 100,000 jobs in the U.S. economy, serving as a powerful voice for how wind works for America. Members include global leaders in wind power and energy development, turbine manufacturing, and component and service suppliers. They gather each year at the Western Hemisphere's largest wind power trade show, the AWEA WINDPOWER Conference & Exhibition, next in Chicago, May 7-10, 2018. Find information about wind energy on the AWEA website. Gain insight into industry issues on AWEA's blog, Into the Wind. And please join us on Facebook, LinkedIn and follow @AWEA on Twitter.
Comments (0)
This post does not have any comments. Be the first to leave a comment below.
---
Post A Comment
You must be logged in before you can post a comment. Login now.
Featured Product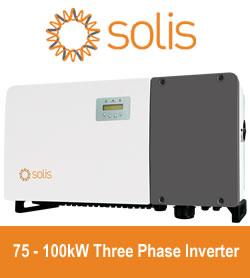 Solis75kW - 100kW series high-power string inverters are widely used in industrial and commercial rooftops. Solis's new three-phase string inverter is the first choice for industrial and commercial photovoltaics. 75-100kW three phase series string inverter have Maximum 28 strings input, support "Y" type connection in DC side. Maximum string input current 13A, support bifacial modules access.Supports anti-PID function to improve system efficiency.