Hanergy Launches Innovative Thin-film Solar Powered "Humbrella"
Hanergy, a pioneering multinational clean energy company, announced the launch of its new product "Humbrella," a thin-film solar powered umbrella providing clean, free and consistent electricity to people in energy-scarce areas of the world.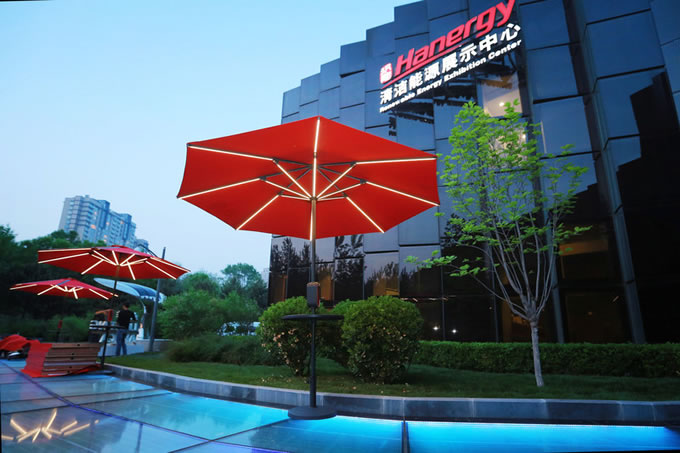 At the launch of its "Lighting Africa" CSR project, Hanergy announced it would donate the first batch of a million RMB (US$160,000) solar-powered umbrellas, or "Humbrellas", to regions of Africa where electricity shortages routinely prevent children from having enough time for study. With Humbrella, children in these regions will be able to enjoy more high-quality reading time.
"Hanergy has been striving to leverage our world-leading thin-film technology to provide accessible and clean energy to the world," said Hanergy CEO Li Hejun. "Humbrella is the latest addition to our growing roster of mobile energy solutions. With our unique technological strength and R&D commitment, we are confident that our products can transform many industries to make them much more green and efficient."
The Humbrella integrates functions including off-grid power supply, electricity storage, night lighting, and terminal charging. It can collect sunshine and convert it into electricity and save up to 40000mAh of power, enough for 10 hours of quality night reading time. In addition to lighting, the Humbrella can charge several mobile phones or small appliances like electric mosquito repellent via 4 USB ports built into the handle of the umbrella. The Humbrella has a diameter of 2.7 meters and weighs only 8.8 kilograms due to Hanergy's amazingly light and flexible thin film solar panels.
Hanergy's thin film technology currently holds several world records. In February 2018, Hanergy's US-based subsidiary Alta Devices' newest solar production module was rated by German solar energy testing laboratory Fraunhofer ISE CalLab PV Modules as the highest efficiency single-junction solar module ever produced in the world with 25.1% conversion efficiency. In the same month, another German testing laboratory, TÜV Rheinland, rated Hanergy's Germany-based subsidiary Solibro's double glass copper indium gallium selenium (CIGS) solar module as the most efficient glass substrate CIGS module in the world, with a record 18.72% aperture area efficiency.
With its world-leading technology, Hanergy is helping to transform the construction and transportation industries. The company recently unveiled its next-generation Hantile, an upgrade to the company's revolutionary roofing solution combining thin-film solar panels with traditional roof tiles. Hanergy has pioneered the use of ultra-white tempered glass, which features a transmittance level of 91.5%, and possesses extreme durability and ability to withstand heavy impacts. The single glass Hantile is also highly wind resistant and able to generate power at temperatures ranging from -40 to 85 degrees Celsius, and humidity higher than 85%. The Hantile has a life cycle of up to 30 years, longer than traditional roof tiles.
In terms of applications in the transportation industry, other than developing its own solar vehicles, Hanergy's US subsidiary Alta Devices recently cooperated with German car maker Audi to integrate solar cells into panoramic glass automobile roofs. Hanergy has also cooperated with major bike sharing companies, including Mobike, 99 Bicycle and MTBike to integrate thin-film solar panels into the bodies of more than 15 million bicycles over the next three years.
About Hanergy
Hanergy, the world's largest clean energy company, has a comprehensive clean energy solution, covering hydro-power, wind-power, and solar power. Since 2009, Hanergy has focused on thin-film solar power research and development, and is launching a series of products including solar roof tiles, foldable solar-paper power bank, solar backpack, Building Integrated Photovoltaics, solar roads and many others. With a worldwide staff of more than 16,000, Hanergy is devoted to providing the world a clean energy solution for a better life and sustainable world.
Comments (0)
This post does not have any comments. Be the first to leave a comment below.
---
Post A Comment
You must be logged in before you can post a comment. Login now.
Featured Product

The Iron Edison Lithium Iron solar battery is fully compatible with popular battery-based inverters and is housed inside a rugged steel enclosure with integrated Battery Management System. Standard capacities range from 2 kWh to 42 kWh, with custom high-capacity and high-voltage models available for commercial applications like peak load shaving and UPS. The battery is designed and assembled at the company's headquarters just outside of Denver, Colorado. The Iron Edison Lithium Iron battery is an ideal replacement for lead-acid battery, with longer cycle life, smaller footprint, and maintenance-free operation. Residential applications include solar battery backup, grid-zero and off-grid energy storage. Commercial applications include high voltage battery backup, off-grid telecommunications power and peak load shaving. If you have any questions, please call us at 720-432-6433. We are happy to help!