Energy Drone Coalition Releases Inaugural "Drones in the Energy Industry" Benchmark Survey Results
The Energy Drone Coalition, powered by InnovateEnergy, and DRONEII.COM are pleased to announce the release of their joint report, "Drones in the Energy Industry." This independent report on the oil & gas, power/utilities, chemical and petrochemical UAV industry finds a market in transition from field trials and POC's to scaling in the enterprise for UAV operations, and it reveals the initial insights into the critical infrastructure market's use of drones in their inspection, mapping & surveying projects.

This is the first industrial UAV report that displays the current pulse of drones in the energy industry and serves as an industry-specific benchmark. It enables readers to learn about the "what", the "how" and the "when" of drones in the energy industry. Furthermore, the collected data will be used as a basis for additional research activities to assess the future development of this rapidly growing and significant market.

A representative mix of UAV leaders from the energy and engineering industries were invited to participate in this study. This mix contains energy asset owners using drones, as well as drone-as-a-service providers (DSPs).

"This survey was created in July 2018 and distributed within the Energy Drone Coalition network in the North American region with 214 total surveys completed," said Sean Guerre, Director. "The survey is planned to be conducted again in 2019 to assess operational changes, market growth and technological developments of commercial drones in the energy industry, and we look forward to having even more respondents share their insights."

Key areas covered in the Drones in the Energy Industry Report include:
The Drone Market (time in market, organization UAV setup)
Operational Setup (in-house, outsource or hybrid)
Technology Stack (hardware, software, payloads)
Operations (types of UAV use cases, frequency of flights)
The Drones in the Energy Industry Report reveals the first market-focused highlights:
Around two-thirds of the energy companies who responded to the survey are currently operating drones.
50% of companies have set up drone operations in-house.
While most energy companies have established a drone department/division, the majority of drone operations in the energy industry for 2018 is in the "Proof of Concept" phase (60% have less than 10 flights per month).
Multi-copters are the most utilized drone configuration. The energy sector utilizes infrared sensors quite often in comparison to other industry sectors.
Endurance, range, reliability and flexible utilization are the core developments required by the respondents to grow or scale their drone operations.
The energy sector is strongly focused on drones for maintenance and inspection applications and is keen to increase research & development efforts for BVLOS operation.
The complimentary report is available for download here.

For details about the Energy Drone Coalition, and to subscribe to the industry newsletter, please visit energydronecoalition.com.

Live discussion about the latest advancements of drones, as well as robotics & AI, in the energy industry will take place at the 2019 Energy Drone & Robotics Summit on June 12-13 at the Woodland Waterway Marriott Hotel & Convention Center. Registration details are available here.
About Energy Drone Coalition and Energy Robotics & AI Network

The Energy Drone Coalition and Energy Robotics & AI Network are dedicated to launching, growing and scaling enterprise UAV/Robotics/AI operations in energy companies worldwide by bringing together the major rapidly growing segments within the UAV/AUV/Robotics ecosystem, with the energy industrial complex asset owners and end users.

The Energy Drone & Robotics Summit is the only event and information resource exclusively focused on the business and technology of UAVs/Robotics (aerial, ground/surface & subsea) in energy operations.

The goal of the Energy Drone Coalition and Energy Robotics & AI Network is to connect fellow energy UAV/Robotics/AI experts & specialists, energy company UAV operators & executives, regulators, UAV/Robotics hardware, software, data technology specialists all specifically aimed at efficient, successful & safe operations globally around critical infrastructure/energy facilities. energydronecoalition.com.

The Energy Drone Coalition and Energy Robotics & AI Network are powered by InnovateEnergy. InnovateEnergy is your single-resource solution that delivers digital content, executive insights, thought leadership, "how-to" and "real-world" use cases in multiple channels for energy technology and innovation leaders worldwide. InnovateEnergy brings together energy leaders in focused on VR/AR, robotics, unmanned aerial vehicles, AI, digitization of the workforce and more.

About Drone Industry Insights | DRONEII.com

Drone Industry Insights is a market research and analytics company based in Hamburg, Germany. They provide insights, competitive intelligence and market data for the commercial drone industry. The consulting services range from operational issues up to cooperate strategy solutions.

Droneii.com provides detailed and sustainable support to global companies at every stage of their business. The portfolio includes tailor-made market studies, commercial due diligence to hedge investment deals in a new and highly dynamic market, competitive analysis of business models, and business advisory. www.droneii.com
Comments (0)
This post does not have any comments. Be the first to leave a comment below.
---
Post A Comment
You must be logged in before you can post a comment. Login now.
Featured Product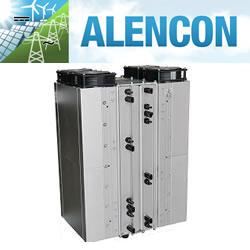 Alencon Systems is the premier manufacturer of high power, high voltage DC:DC optimizers for alternative energy applications including solar, battery energy storage, Microgrids, Fuel Cells and Electric Vehicle charging. Alencon's DC:DC converter offerings include the SPOT, BOSS and CUBE series DC:DC converters. The SPOT is a modular, uni-directional DC:DC solution ideal for solar applications. The BOSS is a modular, bi-directional unit for use with battery energy storage. The CUBE is a monolithic DC:DC converter which is available in both uni-directional and bi-directional modalities. Pictured above, is the Alencon SPOT.